Graham Reid | | 5 min read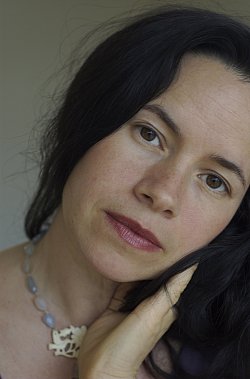 At age 10, Nathalia Crane was an acclaimed poet and the subject of great controversy, not least for the sexual innuendo of The Janitor's Boy in which she wrote of lustful feelings and how she would "dutifully shiver in bed".
"Her poems came to attention when she was published in American newspapers," says singer Natalie Merchant, who has included a musical setting of The Janitor's Boy on her new album Leave Your Sleep.
"When she went to see the editor of the poetry section he thought her mother had written the poems. He wrote about [Nathalia] and she became a nationwide celebrity in the Twenties."
Crane, who became a professor of English and died in 1998, is perhaps the most obscure poet whose words Merchant has adapted for an ambitious double CD collection of songs based around the fears and sometime surreal aspects of a child's imagination.
Six years in the making and entirely self-funded, Merchant's collection includes poems by Edward Lear, Mervyn Peake, e.e. cummings, Ogden Nash and Christina Rossetti.
With a handsome 80-page booklet in which the original poems are reproduced ("I altered them in some cases") alongside writer's photographs, this has been an all-consuming research project for Merchant, previously singer for the American alt.rock band 10,000 Maniacs from 1981 to 93 before she started a solo career.
"No music label in the world would have made this record, nobody could afford to. It's a silly extravagance maybe, but I decided to do it and it's the record of a lifetime.
"I enjoyed doing it in total isolation with no one saying, 'That's ridiculous, you're not going to fly someone all the way from California to play harmonica?' Or, 'You're going to bring an Irish band over when there are [Irish] musicians in New York?'. But I brought a whole band from Dublin.
"There were decisions I made where a record company would have said, 'No'. But I wanted to make something with a classic timelessness to it, I wanted people to have something they could spend time with."
Distributed by Nonesuch, the CD/book has already been well received by journalists from the likes of Britain's BBC and Granta, and the New York arts journal Chronogram which gave Merchant a cover in February. Merchant notes interviewers say "it's refreshing to be able to talk about more than just whatever happened in a person's life that caused them to write the record, which is usually the break-up with a boyfriend or girlfriend. Something really inconsequential to the rest of the world".
"But this seems more communal, the subject matter draws from the genius of these couple of dozen people and is more rich to talk about."
The project began after the birth of Merchant's daughter and as someone who had never spent time around children she was taken by how sophisticated children's thinking could be. This isn't often acknowledged in popular art, she says, and children frequently have great sorrow and confusion.
"There was a time when children were not talked down to and lived in close proximity to sickness and death, and they worked from an early age. As the project evolved -- it was originally a lullaby and nursery rhyme record -- it became more about childhood itself. I realised themes of innocence and experience had to be part of it because they are a darker, sadder and more realistic part of childhood."
Once the concept had been established, Merchant looked for poems which had central characters or a first-person narrative which drew an audience in, and those with rhyme schemes which lent themselves to musical adaptation. She was taken by the nonsense poems of Lear, Peake's love of wordplay, and the absurdity of many English poets.
"There is that tradition in England, so many of the men were well educated professionals who in their spare time amused themselves as poets."
Merchant spent two years making made demo recordings of the music she wanted on her home synthesiser, piano or guitar: "For the more highly orchestrated pieces I worked with arrangers, you don't walk into a chamber music session with 26 classically trained musicians and say 'Let's just jam'."
She then approached a galaxy of musicians including jazz musician Wynton Marsalis (whose quintet provided the Dixieland sound on Crane's The Janitor's Boy), the Chinese Music Ensemble of New York (The King of China's Daughter by an anonymous British writer), avant-jazz group Medeski, Martin and Wood, The Klezmatics and blues-rockers Hazmat Modine.
On William Brighty Rand's Topsyturvey-World she hooked up with a group of Jamaican musicians from Brooklyn.
"The guy who does the vocal at the end sounds menacing, and in childhood my daughter was really friendly with just about anybody. Then a man with a beard held her and she was hysterical.
"Childhood is like that, full of terror which for adults is completely unfounded. I feel the entrance of that voice at the end of Topsyturvey-World is about the unexpected, that, 'What's around the corner?', 'What's under the bed?' voice."
Merchant likens the finished collection to a parade of characters -- "circus ponies and giants, witches and blind men and elephants, boys waiting on the quay and walking through snow storms" -- which she has willed into being. It reminds her of a cavalcade of characters she saw in the endpapers of children's books her grandmother had.
"I wanted this record to be like that parade, that cavalcade. I feel like the sleepy giant and the peppery man, Griselda and Isobel -- and even the poets -- have become like a crazy collective family to me.
"So I had to have photographs of the poets with the album and wanted to know their stories. Did Laurence Alma-Tadema who wrote If No One Ever Marries Me marry? After two years of looking I found an obituary, and she never did.
"That too is a childhood fear, 'What if no one loves me, if no one plays with me?'. And it's not just playing, it's being with your parents. The worst punishment for a child is, 'You go sit in the other room and think about that'. To be separated from people you love is our greatest fear."
Merchant, 46, is currently on a multi-media lecture tour in the United States reading the work and singing her adaptations. Then she will tour with an eight-piece ensemble of multi-instrumentalists.
"I always wanted to mature with dignity and that's difficult to do in entertainment, there's this absurd attachment to youth. Once you're past a certain age you're not relevant anymore.
"But there's so much more to life that doesn't have anything to do with what happens in your first 25 years. There's this wisdom or understanding older musicians can pass on to us. In the more serious music fields people like John Adam, Philip Glass, Steve Reich and even Laurie Anderson are allowed. But the eyebrows go up after a certain age in the pop world, like, 'Oh, she's still doing it'.
"Ironically last May I received an honorary doctorate in music [from the State University of New York] and was feeling undeserving, until I proofread the liner notes for Leave Your Sleep. I thought, "Yeah, this is like a thesis'.
"So maybe I earned it after all."