Graham Reid | | 9 min read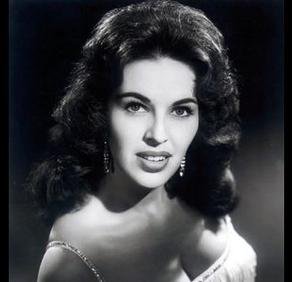 As a teenager barely out of school, Wanda Jackson – "the sweet girl with the nasty voice" as she became known – toured with and dated Elvis Presley; scored minor hits with Mean Mean Man, Fujiyama Mama (big in Japan in '58) and her signature song, the larynx-tearing invitation Let's Have a Party in 1960.

Let's Have a Party – which Presley had first sung – broke through when a radio DJ in Des Moines, Iowa picked the track off a two-year old Jackson album, started playing it and got a great response. He encouraged Capitol to release it as a single and it became top 40 hit for Jackson.

Ironically that hit came just as rockabilly and rock'n'roll – after the death of Buddy Holly, Elvis in the army and Little Richard abandoning rock'n'roll for the church – were dying out.

But earlier, when few women singers let alone teenage girls were making proto-rock'n'roll, the stylishly dressed Jackson who made her own clothes was on the frontline having a ball. But working for it.

Although Jackson's rockabilly days effectively ended within a few years of Let's Have a Party her career continued: she returned to the country music she grew up on as a child in Oklahoma, where she still lives with her husband/manager of 40 years Wendell Goodman; she recorded gospel throughout the Seventies, and in the Eighties the resurgence of rockabilly – prompted by the Stray Cats who are huge Jackson fans – saw her old albums reissued and she found regular rockabilly work in Europe.

And at 72, Jackson – the Queen of Rockabilly – is back again.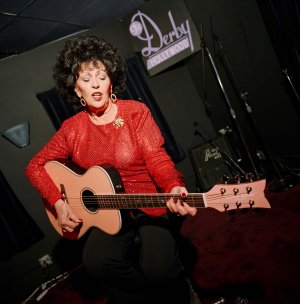 In the mid Nineties she toured with Tex-Mex rocker Rosie Flores and connected with a new audience of younger fans; in 2003 she recorded the Heart Trouble album which featured Elvis Costello, the Cramps, Dave Alvin and other admirers; and last year she was inducted into the Rock and Roll Hall of Fame as an Early Influence.

Improbably, post-punk industrialists The Fall cover Jackson's Funnel of Love on their latest album; she played this year's SXSW festival in Austin . . .and she has recorded a new album produced by longtime fan Jack White (White Stripes/Raconteurs/Dead Weather).

The forthcoming album with White should take Jackson to a wide audience: the advance single is her tough cover of Amy Winehouse's You Know I'm No Good backed with a horn-driven version of Johnny Kidd and the Pirates 1960 stomper Shakin' All Over.
She spoke in May in advance of the album's release.
You have enjoyed a remarkable comeback to rockabilly rock'n'roll in the past decade or so. It began with Rosie Flores in '95 I think?

My, you've done your homework! Yes, I recorded a couple of songs with Rose for an album of hers and it got so much publicity that we went on tour across America for five weeks – and it was at that point she introduced me to the new generation of rockabilly and rock'n'roll fans . . . and the venues that were available, which I knew nothing about.

I'd been working so much in Europe for 10 years to that point, so I didn't know what was going on in America. I was shocked to see all the fans -- and the fact that they knew my songs and would call out for them. I had to go back and relearn some. So it has been a ride on the roller coaster since then.

Slim Jim Phantom of the Stray Cats told me that rockabilly was the original American music . . but of course it faded out.

It changed. Rock'n'roll didn't fade out, but rockabilly had a very small window of time if you narrow it down to a country artist singing this new style style of music. There was only about five of us at that point – and then they began to crop up everywhere and it began to change."

Let's Have A Party became a hit when the rock'n'roll era was almost done. But by then you had also gone back to country music. Did you see rockabilly ending so you were getting out?

That came about purposefully. I began recording rockabilly – I prefer to call our music Fifties Rock, the original music – and I started recording in '56. I recorded a lot of it, four singles a year and two albums was the contract I had with Capitol Records.

But I could get no airplay. America was having a hard time accepting Elvis and Jerry Lee and the men, so for a teenage girl to come out singing it! They just weren't going to help me and they wouldn't accept it. But I kept recording it and finally I was putting a country song on one side and rock on the other hoping to get airplay on one or the other.

But by 1960 I had just given up. I'd put out albums with rock music and on singles but I couldn't get airplay although they went over great on my personal appearances -- but I couldn't get play and therefore couldn't get sales.

So I went back to country – and that point Let's Have a Party broke, it was pulled off my first album with Capitol and I guess had been recorded in '56 [Actually '58]

So I backed in through rock'n'roll again. And I'm glad to be back and feel very comfortable here.

People always say that rock'n'roll was wild music but it was an innocent age? Was it really that innocent? Some of those people were pretty knowing characters.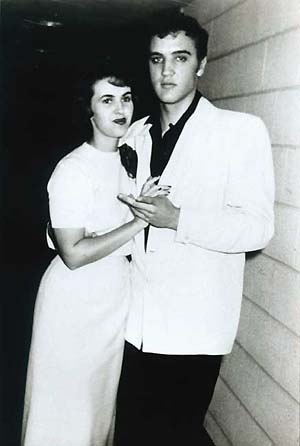 It was very innocent time, it was the last days of america's innocence. By the 1960s things were already changing, Vietnam, the hippies and folk music came to the fore.

But our music was innocent in the fact that we were singing stuff about things that teenagers did. I was a teenager, I was 17 when I started recording so we were talking about proms and dances and riding in cars and stuff like that. Naturally it could be taken another way I suppose, that depends on your mind where you take a song more than what a song actually says. Maybe that's just me.

It was innocent. Elvis sang about Mystery Train and Good Rockin' Tonight, what we meant was dancing. But somebody put a different meaning to that . . . but we didn't know that.

It is always said that you and Elvis dated. What did "dating" mean though?

It wasn't traditional dating where he drove to my house, picked me up and then later drove me home. It was when we were on the road – and I like to be sure I preface this by the fact my father travelled with me and acted as my road manager and business manger and career advisor, he did it all.

He gave up his job and they sacrificed a lot so I could have this career. So him being with me made all the difference in the world.

I had freedom to go out with Elvis and afterwards to go grab a hamburger and drive around and talk, you have to remember I was just 17 . . . and my dad thought the world of Elvis. He really did.

He appreciated his talent, thought what he was doing was great and was glad when Elvis talked to me. He and Elvis got along fabulously and both were big kidders, so our dating was actually was with [Elvis' musicians] Scott Moore and Bill Black and my daddy along and we'd go out and eat.

Sometimes [Elvis and I] would take in a matinee movie if we got into a town early where we could sneak off for a little privacy. We were very good friends but it was all innocent and I'm proud of that fact.

Was Elvis aware of what was happening around him, how big he was becoming?

Yes, because by then he was 21 and he was very smart and was never given any credit probably, but he had a real handle on what he was doing and where he was going. He knew when it was time for him to change his manger from Bob Neal to Colonel Tom. I didn't like his choice, but most definitely it was time he had someone who could handle what was happening to him. But I'm sure it could have been part of his over all plan.

But he gave me good advice, and others encouragement. He was smart in his business dealings or at least what he was doing in his career.

Let's turn to your career. In recent years you've had good advice and a lot of support too – like the album with Elvis Costello and the Cramps and others.

It was a shock because CMH records -- which was not a big company, a specialty company – asked if I would be interested in making an album and by that point it had been 20 years since I had done an in-studio album in America for America. I'd been recording for years in Europe.

So I said yes and it started off as a bluegrass album and I was getting bluegrass unplugged material – and it began to change and they are calling and saying 'The Cramps just called us and they got word you are recording and want to be on the album free, gratis. They are fans'.

I knew their name but didn't know their work – but it was pretty wild when I found out what they they did record! But I thought I would love to have them – and Dave Alvin the same thing, we didn't contact anyone, they all called the producer or record company and said they wanted to be on with me.

It was a total shock to me, and a pretty heady trip.

And now Jack White. I understand you have covered Dylan's Thunder on the Mountain? I've seen him play that a couple of times and he does it in a rockabilly style . . . . although there are probably more words on that one song than on most albums you've done.

How did you even know of that?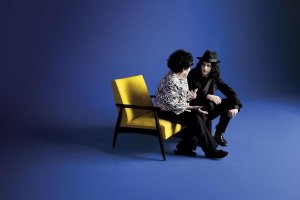 It was on a website.

Probably on Dylan's. Jack called him knowing he was a fan and they are good friends and I had found out through his satellite radio programe that he was a fan. Jack asked him for ideas and he quickly said 'Thunder'. But 15 verses! I thought I would never finish singing that.

But Jack has asked me to please don't talk about it or tell what songs we've done because he wants it to be a total surprise to the whole industry as well as to fans. I can tell you it's now in the can and he's mixing it this month and I'm hearing the final mixes and it's getting real exciting to me.

This young man is so creative and talented – to be able to work with a young person with all this enthusiasm and creativity, it's been a shot in the arm for me.

Is that think you appreciate? Working with enthusiastic younger people.

It's what's kept me touring as much as I do. I've always loved to travel and entertain live audiences more so than television. For a while I was doing a week here and there at a country show in Branson, Missouri. And I found I wasn't looking forward to that very much – because even though those audiences were gracious and accepting and all of that, they weren't the young people with that enthusiasm they have.

So I didn't do that show for too long because I need that energy. I get waves of love and respect and enthusiasm [from young people], and you can't beat that, right?

If we could bottle that we'd make millions.