Graham Reid | | 2 min read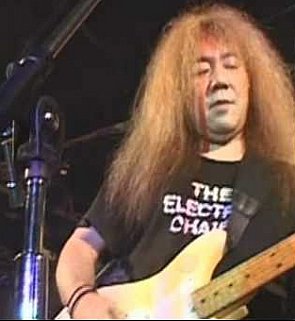 Initially inspired by T.Rex and classic rock like the Stones, Led Zeppelin and Pink Floyd, guitarist Ken Matsutani has helmed the ever-changing line-up of Tokyo's Marble Sheep since their formation in 1987.
But right at the start Marble Sheep – who play dates in New Zealand in January, see below – aimed for cosmic rock. Cement Woman which opens their live in Tokyo 1988 double set is 20 minutes long, other songs push past the quarter hour mark.
At first billed as Marble Sheep and The Run Down Sun's Children, the band played clubs in hip'n'happening Shinjuku, although Matsutani admits they were a bit bewildering for their audience.
"Our sound was very freak-out so we were always alone," he says. "I don't know if Japan really had a psychedelic, space rock scene. The audiences were clean and very serious. They had no experience of psychedelic and freakout music.
"There were just a few people familiar with it, the Dead Heads knew psychedelic feelings."
Formed after he left the band White Heaven, Marble Sheep carved a singular and noisy path and at one time included guitarist Michio Kurihara who went on to play with Damon and Naomi, Ghost and Boris.
"The Tokyo psychedelic scene then had a very black image. Everybody wore black and sunglass and made a hysterical electric noise. I didn't want Marble Sheep to join that scene so we wore colourful shirts and left behind that heavy sound jam. We changed our sound from heavy to light.
"It became like the Grateful Dead and we succeeded in changing our image. But nobody, no Japanese psychedelic fans, wanted our style so we were playing for few Dead Head clubs and the audience was hippies.
"But Marble Sheep were not sweet love and peace hippie. We had punk spirits.
"Everyone said at the time sounded and looked like Amon Duul but our technique then was very poor. We played long jams for many people: punks, heavy metallers, freak-out people, non-musicians. It was fun but we needed something remarkable and I changed from acoustic guitar to electric guitar . . . and we played Marble Sheep songs with long improvisations."
Because Matsutani writes all the material, despite the line-up changes, there is a consistency of vision although he says Marble Sheep has become like chameleon.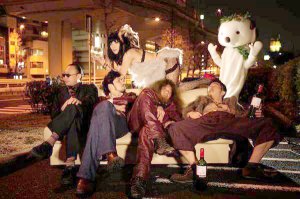 These days Marble Sheep albums – produced by his own company Captain Trip – have been released in Britain, Finland, Germany and New Zealand (through Sarang Bang in NZ), and the band has toured the US and Europe.
"We played some big festivals in Europe – 3000 to 8000 audience – and we get big reaction . . . and had big merchandising sales!
"But really I don't know who knows us!"
Matsutani – who admires Jeff Beck, Johnny Winter and Leslie West as guitarists – says that after a four year hiatus he "remade" Marble Sheep in '99 to get back to that impulse which drew him to music in the first place. The improvisation is still intact but there is economy and focus as well.
"So we play like that golden time of rock feeling. We play psychedelic, hardrock, glam-rock, progressive rock styles . . ."
True. On the Purple album of '09 -- which he recommends as a good starting place -- there is a gentle ballad (September's Rain) which is more Bowie than tripped out space-rock and then there are diamond hard riffs which hark back to that early enthusiasm for T. Rex. And some lovely dreamy sequences as much as full-throttle sky-reaching rock.
And of course we have to ask: the band name?
"In Japan there was marble chocolate, chocolate of various colours. I know in English the sheep meaning is 'human', so it is one world of psychedelic rock!"
And that, as they say, explains that.
MARBLE SHEEP TOUR DATES (WITH SUPERTURTLE)

Lucha Lounge, Auckland, Saturday Jan 12
Wine Cellar, Auckland. Wednesday January 16
Yot Club, Raglan, Thursday January 17
Mighty Mighty, Friday, January 18
Bowling Club, Piha, Saturday January 19 (plus Salon Kingsadore)