Graham Reid | | 4 min read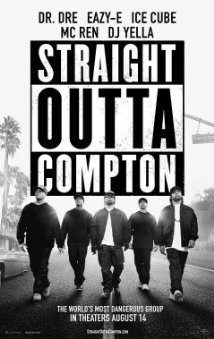 When Ice-T boldly announced that gangsta rap was the CNN of the ghetto suburbs, one wit hit back saying — given the cliched posing with guns and chains and the sneering attitude — that it was actually more like the Cartoon Network.
Of course things change fast in popular culture and before long the writer Ned Sublett in his excellent book about New Orleans and the hip-hop culture there The Year Before the Flood noted that it was rappers who became "the stars [not the innovative beat-makers] and are necessarily extroverted, often to the point of hyper-assholery, and who can be brilliant poets as well as frustratingly thick and sometimes really have been the criminals they claim to be".
It was the criminal character and caricatures of gangsta rap that offended many in the late 80s, and not just white conservatives but black liberals (among them Bill Cosby) who felt that it ran counter to any progress made by the Civil Rights Movement and played into the hands of white stereotypes of black youth.
That may well be true but getting hung up on image and especially language — and there was plenty of X-rated language to get sweaty about — does make you deaf to the message.
And the message of gangsta rap could not be more clear.
A few years on from Mel Melle saying "Don't push me 'cause I'm close to the edge" in The Message, Public Enemy and N.W.A (whose names told you all you needed to know) said it was too late. Their people felt pushed and were now fighting back. F*** tha Police as N.W.A. announced.
Racist police and oppression were in the sightlines and the broadcasts on the CNN from the ghetto became mainstream news.
These days of course — with Ice-T an actor (and star of his own awful reality show Ice Loves Coco) and both Ice Cube and Dr Dre from N.W.A. being millionaires — it's hard to appreciate the angry vibe and context of early gangsta rap.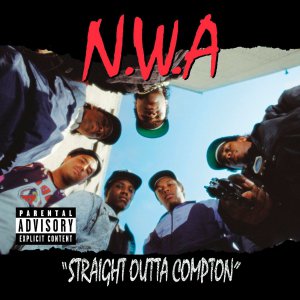 But consider this: N.W.A.'s debut album Straight Outta Compton in '88 came out the same year as George Michael's Faith, Madonna's You Can Dance and Michael Jackson pretending to be Bad.
Oh, and it was the time of DJ Jazzy Jeff and the Fresh Prince.
Of course you can get a better idea of the headspace of the era with the new movie Straight Outta Compton which tells — in cinematic terms at least — the N.W.A. story as they want it told, because Dr Dre and Ice Cube were executive producers. It is sanitized, overly dramatic at times and parts would have you believe these were just yuck-yuck boys follin' around until it all come down on their heads.
We don't quite get to the misogyny and homophobic text of the time, and it's interesting that Dr Dre has come out and apologized to the women he hurt back then, saying that basically he was young, dumb and drunk.
That his apology was non-specific suggests he doesn't want to go down the Bill Cosby route and is getting in with the head-hanging early.
But the film has been a runaway success in the US and throws the spotlight on an important period in rap and musical history.
Of course it all went sour fairly quickly for N.W.A. with arguments, solo careers and the death in '93 of founder, the group's rapper and Ruthless Records' boss Eazy-E.
But in their short span they produced one masterpiece, that debut Straight Outta Compton and then when they went their separate ways some impressive solo albums.
Dr Dre might be better known as a producer and businessman (Aftermath Records, Beats Electronics) but his album The Chronic (1992) is a G-funk classic (with Snoop Dogg) and the new star-stacked Compton (with Eminem, The Game, Snoop and Xzibit among others) was inspired by him seeing the early rushes of the film.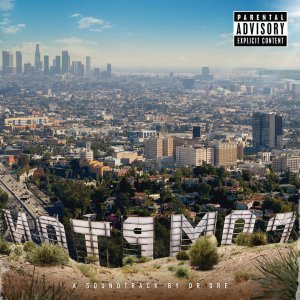 Opening with a scene-setting doco-intro about the earlier history of Compton ("the American dream . . . it became the black American dream . . . crime and growing welfare . . . juvenile gang activity . . .") before King Mez and Justus start hammering home the hard truths. Justus' later slow-groove It's All on Me is a standout for its beaten-down feel, as is the melodramatic Loose Cannons (Xzibit and others) which has a suitably cinematic feel.
In fact the whole album comes off like an audio document with a brutally visual quality courtesy of sound effects, nail-gun beats, moans, sound samples and chronic-smoked moments.
It's patchy but not too bad, a look back at the times from a contemporary perspective so has none of the raw, police-fuelled rage of the classic album..
Cube's debut solo album AmeriKKKa's Most Wanted in '90 (with the Bomb Squad who produced Public Enemy albums, and it has cameos by Flavor Flav and Chuck D) is also a cornerstone hip-hop album.
His Death Certificate of the following year is one of the toughest in a very tough genre too.
Eazy-E's solo debut Eazy-Duz-It (88) is perhaps his defining moment but later work includes a fair amount of name-calling and provocations towards Dre and others.
That stuff doesn't age well.
But if the film and its Compton soundtrack allows us to go back to a time when gangsta rap was calling the shots, then it has done its job . . . and the best of gangsta is among the best there is.
Certainly a way to get your head straight again after you've watched an episode of Ice Loves Coco.