Graham Reid | | 3 min read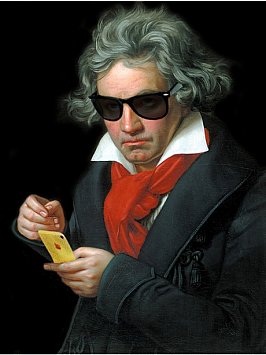 Although most pop and rock listeners might not think it so, many songwriters have drawn on classical music . . . and not just for inspiration, but sometimes quite directly grabbing at the melodies.
We're not talking about Deodata offering his electro-treatment of Strauss' Thus Spoke Zarathustra or Love Sculpture's flat-tack guitar workout on Sabre Dance (by Khachaturian), or even Emerson Lake and Palmer covering the classics in their own prog-rock way.
Or Nas copping Beethoven's Fur Elise in I Can.
There are more subtle appropriations: Paul Simon for example lifted part of the melody of his American Tune from a hymn O Sacred Head Now Wounded written by Hans Leo Hasler (1564-1612). Actually Simon wasn't the first to borrow this melody, JS Bach used some of it in his St Matthew's Passion.
And speaking of Bach, Procol Harum's famous Whiter Shade of Pale from '67 owes quite a debt to his Cantata No 156 . . . and the very lovely song Stranger in Paradise from the opera Kismet came from the piece Polovestian Dances in Borodin's opera Prince Igor.
The ubiquitous Canon in D by Pachelbel was adapted into the huge hit Rain and Tears by the Greek band Aphrodite's Child (which introduced singer Demis Roussos to the wider world).
The Toy's extremely catchy A Lover's Concerto was credited to JS Bach, Sandy Linzer and Denny Randell. One of those people just doesn't belong, right?
That terrific slice of handclap girl-group pop with lovely lyrics ("How gentle is the rain that fall softly on the meadow . . .") appears on the 24-song collection Classical Gassers (Ace, through Border in New Zealand), as does Love Sculpture's Sabre Dance, arranged by Dave Edmunds.
And Stranger in Paradise sung by the Galens, pity the gorgeous Johnny Mathis version wasn't here instead.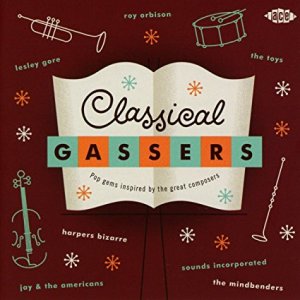 Some of the songs on this Sixties collection are pretty obvious in their borrowings, like the Piltdown Men's saxy rocker from '60 Piltdown Rides Again. Most people would spot it as the theme to The Lone Ranger (oops, Rossini's William Tell Overture).
And Sounds Incorporated's Hall of the Mountain King is quite obviously based on Grieg's Hall of the Mountain King. Waldo De Los Rios rather gives the game away in the title of Mozart Symphony No 140 in G Minor.
As do the Second City Sound with Tchaikovsky One, and the Cats with Swan Lake.
But despite many having heard it since it came out at the start of the Sixties, who would have guessed James Darren's Goodbye Cruel World (written by Gloria Shayne) is based on Entry of the Gladiators by the dangerously easily to misspell Fucik.
Jay and the Americans' Dawning has its melodic origins in a piece by Grieg from Peer Gynt (as does Lesley Millers' Mountain of Our Love) and they were up for it again with My Clair De Lune (Debussy, credited to Leiber-Stoller).
Lesley Gore's Just Let Me Cry lifts from Rimsky-Korsakov's Song of India (the same guy who wrote "Bum of the Flightal Bee" as one British radio announcer famous fumbled) and the Pulse's Can Can Girl is based on Offenbach's Orpheus in the Underworld . . . or, if you will, Orpheus in his Underwear . . .
Sorry, this is getting silly.
Not quite as silly as Allan Sherman's comedy hit Hello Muddah Hello Faddah (Ponchielli) or the reductive Nut Rocker by B Bumble and the Stingers (Tchaikovsky's March from the Nutcracker, arranged by that great chancer Kim Fowley).
Among the big names here are Roy Orbison with She Wears My Ring (a hit for Solomon King) whose operatic reach is up for the piece originally by Serradell, and those masters of MOR Harpers Bizarre drop by with their Peter and the Wolf based on . . .
And the Toys tried again the classical-into-pop trick with Attack (same source material as B Bumble).
Unfortunately the original Whiter Shade of Pale isn't here but an orchestrated version with trumpet rather than organ. It is by soul singer Shorty Long who was briefly on Motown, his first release being Devil With a Blue Dress On (later a hit for the great Mitch Ryder and the Detroit Wheels).
So a collection which might – but probably won't – have you trawling Spotify for the originals.
Not necessary though.
With songs as good as the Mindbenders' Groovy Kind of Love, Goodbye Cruel World and especially the Toy's enduring classic A Lover's Concerto, the Classical Gassers collection is enjoyable in its own right . . . although you only ever need to hear Allan Sherman once.