Graham Reid | | 1 min read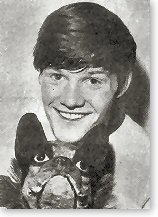 At the end of '63 the fresh and freckle-faced 18-year old Tommy Quickly was standing at the door of his dreams: he'd been signed by Beatles manager Brian Epstein (who had changed his name from Quigley in the manner of manager Larry Parnes' school of stage names like Vince Eager, Marty Wilde and Billy Fury) and was tipped for massive success.
His first single Tip of My Tongue was even a Lennon-McCartney song ("That's Paul's rubbish, not mine," said Lennon later) and Epstein was massively supportive. In the following 18 months Quickly received enormous exposure: he opened for the Beatles on three tours, for Billy J Kramer on two, another for Gerry and the Pacemakers, appeared on Christmas shows with the Beatles and Gerry, released five singles, Epstein and Derek Taylor flew him to the Los Angeles to promote his single The Wild Side of Life . . .
Nothing.
With the exception of his short-lived single Kiss Me Now, Tommy Quickly failed to capture the heart and minds, or the charts (because of poorly chosen material given him), and despite Epstein's constant drum-beating it was all over by June '64 when Quickly was dropped by his label Pye. Seven months later he was out of Epstein's NEMS stable of artists (he'd become unreliable and was drinking heavily).
Quickly was Epstein's most expensive and conspicuous failure, a footnote in the Merseybeat era.
This track comes from an album appropriately entitled What About Us, a collection of other also rans (The Chants, the Koobas, Johnny Sandon and the Remo Four) as well as the rather more successful Searchers. When Quickly sings Humpty Dumpty you can hear he was an entertainer in the style of Tommy Steele -- a man from an earlier and rapidly receeding era.
At Elsewhere there is more about the Beatles and Brian Epstein, but not another dicky-bird about Tommy Quickly.
For more one-off, oddities and songs with an interesting backstory check the daily update From the Vaults.