Graham Reid | | 1 min read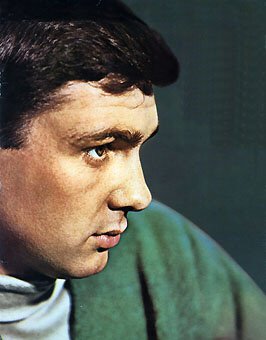 Because many of us used to read album covers with something approaching an obsession when we were first buying records, we got to know the names of songwriters (Charles and Inez Foxx always sounded so mysterious when I found them on the first Downliners Sect album) and even producers.
So imagine my confusion when I saw the name "Gene Pitney" credited with playing piano on Little By Little on the Rolling Stones self-titled album of about 1964.
The Stones were raw, rebellious boys (part of the attraction) and Pitney was the guy who sang those aching pop songs which came across the radio between Trini Lopez and Dave Dudley's Six Days on the Road. They were great songs -- If I Didn't Have Dime, The Man Who Shot Liberty Valance, the terrifically exotic Mecca and True Love Never Runs Smooth . . . but to know the Stones were hanging out with him?
Kinda tarnished their low reputation.
Even when radio was tossing out great singles with almost casual indifference, Pitney's songs stood out: he had a distinctively sharp voice and was clearly possessed of great vocal power too (check Mecca), and I remember one night a DJ mentioning Pitney had also written He's a Rebel for the Crystal (I had thought Phil Spector did that) and Hello Mary Lou for Ricky Nelson (again, I assumed Ricky or the Everly Brothers had penned it).
After that I listened more carefully to Pitney, and was rewarded with I'm Gonna Be Strong and the very camp Backstage. And then later discovered his breakthrough single Town Without Pity on a compilation album.
I loved the way his voice cracked, how the song soared, the slightly sleazy drama of the horns which suggested some cheap cop show on TV . . . and a friend told me it was about "being a queer and living in a small town".
That thought hadn't occurred to my 14-year old brain, but added an allure to it also.
Maybe it was, I didn't know. Could have been, so I imagined Gene and Eden Kane as secret lovers and Eden singing Boys Cry ("when no one can see them") as they met in a cheap motel.
Sort of Rock Dreams before it was thought up.
Anyway, Gene was married with kids -- although he did get together with Marc Almond later for another version of Something's Gotten Hold of My Heart so . . .
Aside from one-hit wonders, few artists start and close their career with the same song -- but that's what happened with Gene. Town Without Pity was his breakthrough single, and it was also the last song he ever performed -- 45 years later.
Shortly after finishing it he left the stage in Wales to a standing ovation, went back to his hotel on a high and later his manager found him dead of a heart attack in his room.
Oddly enough in all those years I listened to this I never once thought Cardiff would be that town without pity.
For more one-offs, oddities or songs with an interesting backstory see From the Vaults.