Graham Reid | | <1 min read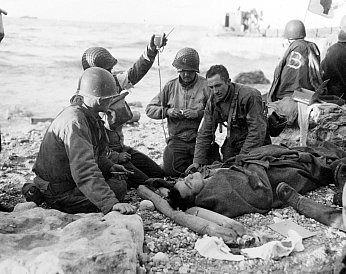 Previously at From the Vaults we've featured songs from the Vietnam war era (from all sides of the political fence, start here), but here we turn the clock back further to this finger-popping little number by the great Nat King Cole.
I can't source this song exactly -- it came from a German compilation American War Songs 1933-47; Hitler and Hell -- but it might have been recorded for the radio programme he had at the time.
Cole finds a way to make "D-Day" sound like some hep cat singing "dee-day", but also gets across the message of being circumspect and patriotic.
In fact though, if you stripped out the lyrics or ignore the message you have a snappy little swinging jazz number which is tidy and economic.
Hard to believe it was about something as brutal as the counterstrike into Europe, seen so graphically portrayed in the opening sequences of Saving Private Ryan. Or as in the more bloodless newsreel below.
For more oddities, one-offs or songs with an interesting backstory check the massive back-catalogue at From the Vaults.
.