Graham Reid | | <1 min read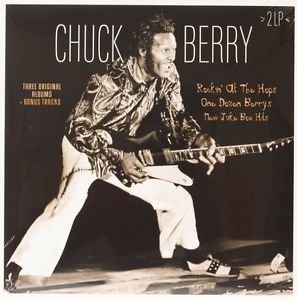 With only one notable exception – his godawful '72 hit My Ding-A-Ling – nearly all of Chuck Berry's greatest songs came in a rush on the Chess label in a five year period from August '55 when he released Maybellene.
This digitally remastered collection of three original albums onto high quality double vinyl includes Sweet Little Sixteen, Reelin' and Rockin', Rock and Roll Music, Down the Road Apiece, Route 66 and other classics.
No, it doesn't pick up his essential Chuck Berry Is On Top album from mid '59, but it does add five extra songs, among them Brown Eyed Handsome Man, You Can't Catch Me and Back in the USA.
These three albums from '58, '60 and '61 and those bonus songs give you an excellent starter on the story-telling, zeitgeist-grabbing rock'n'roll of the late Chuck Berry, a man Elsewhere has previously claimed to have been as important as Elvis.

Here is considerable evidence in his favour.
And it is just $39 at JB Hi-Fi stores here.
For other recommended vinyl albums at a budget price see here.