Graham Reid | | 1 min read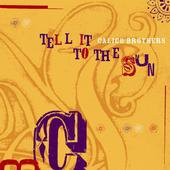 These "brothers" from Auckland got a nice notice at Elsewhere for their debut EP God Left Town noting however that they seemed an amusing sum of influences such as the Traveling Wilburys (with Lennon not Orbison in the line-up), strum'n'sing Tom Petty and so on.
Here those influences are slightly tempered -- although in the case of Is There Anyone There? they've borrowed so heavily from Crowded House's balladry you might find yourself checking the writing credit. (Although I doubt Neil Finn would namecheck alt.rock power pop outfit Redd Kross.)
It is very hard to dislike a band that is as melody-conscious as the alt.country folk-pop Calico Brothers, but you aren't going to throw accusations of originality at some of these songs, lovely though they may be.
That said, they the do push themselves beyond the musical reference points from that EP: Up for Air may be a bit too Lennonesque for comfort but it stands on its own merits, as does the moody-then-menacing Always Said I'd Do which is the most interesting song here alongside the extended closer Could Not Be More Wrong which really does suggest a highly profitable country-rock direction (like a Lennonesque-country flavoured Neil Halstead/Slowdive).
The title track is a winner and the country pop of Got To Get on Getting Over You is quietly convincing. The brief Lost on the Motorway is the sleeper.
The Calico Brothers may not care to go past the style they have adopted and they sure do it well, but where that debut was interesting as a starting point you'd have hoped more of this might have seen them stretch themselves.
Gotta say though, they are much more interesting lyric writers than the Wilburys (Dylan's Tweeter excepted) and recent Tom Petty. And for that we thank them.
A grower.