Graham Reid | | 1 min read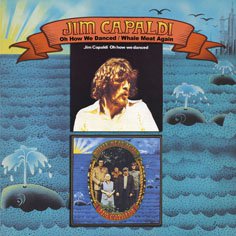 Drummer, singer and songwriter Capaldi recorded these two solo albums in '72 and '74 when he was still a member of Traffic alongside Stevie Winwood, Dave Mason and Chris Wood -- all of whom appear here as part of a stellar cast which also includes the Muscle Shoals Horns, guitarist Paul Kossoff of Free, Rick Grech, drummer Gaspar Lawal, Jim Gordon and others.
Pretty much a who's who of the slightly progressive but soul-oriented British music scene at the time, and so a measure of the high regard in which Capaldi was held.
It was through Oh How We Danced that Muscle Shoals sessionmen David Hood (bass), Barry Beckett (guitar) and Roger Hawkins (drums) would play on Traffic's Shoot Out at the Fantasy Factory -- and they are outstanding here on the funky-framed country-styled rock where boogie-woogie/barrelhouse piano sits alongside stinging guitar solos and that tight horn section.
Capaldi assimilated blues and soul into his ambitious pop-rock, and wasn't averse to orchestration or the grand sweep of organ (Beckett or Winwood mostly).
It isn't all up-beat and about the power of love either, material like Don't Be a Hero remind you that bad drugs and worse politics were really kicking in for a lot of people.
Capaldi's songs are flexible and allow plenty of space for the players, but he also has a keen sense of melody and a convincing voice.

Some of what is here has dated a little (some a lot) but if early Clapton solo albums, Elton before Yellow Brick Road, Little Feat and Traffic ever meant anything to you then these two-albums on a single disc with excellent annotation come recommended.
Jim Capaldi died of cancer in January 2005. He was 60.