Graham Reid | | 1 min read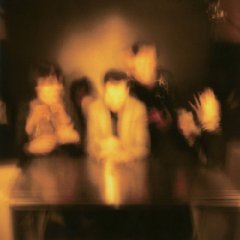 In my blog at Public Address recently on my impressions of Auckland's somewhat dire Big Day Out 2010 (here), I noted that there were very few bands/artists whose albums I'd want to check out afterwards: the Horrors was one of them.
I'd only heard bits and pieces previously and so had no overall impression but on the day they were interesting. (A word which suspends judgement, right?)
What I liked was the singer's declamatory, finger-pointing manner; the fact they were dark and moody and underfed (like all the best young rock bands); that they slipped in some lyrics from She Cried (the old Richards-Daryll aching ballad I first heard on a PJ Proby album in about '65) into their heroic original Who Can Say; and that they had a widescreen approach with guitars, keyboards and tundering drums.
They rocked.
They weren't however remotely original and as I noted, if Jarvis Cocker (a man more admired for who he is than what he does?) thinks they are the future of British rock then he's a bit arse-about-face: they were pure Liverpool 1980 wth huge chunks of Teardrop Explodes, Echo and the Bunnymen and even some Orchestral Manoeuvres in the Dark thrown together.
That I loved all those bands rather endeared them to me -- and this album comes in a cover as blurry as anything by the early Cure. Cool.
So yes, the Horrors go through some very familiar paces here but what commends them is they deliver like they are discovering this for the first time, as no doubt they are.
In places they also have that astonishing energy that the 3D's bring to the stage, and restraint isn't their thing.
This album has been out some months but it's never too late to be turned on to the recent past.
Or, as the Horrors prove, the now-distant past come to that.