Graham Reid | | <1 min read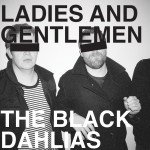 With a pure blast of angry guitars, a disciplined rhythm section, throat shredding vocals and a terrific sense of pop smarts driving their metal-edged rock'n'roll this New Zealand industrial strength five-piece grab attention immediately on this six-track EP, which feels far too short.
Taking large dollops of classic metal but delivering with that post-punk energy which has been the hallmark of the best rock'n'roll in the past decade, the Black Dahlias (great name) certainly mean business in an AC/DC kinda way, but with some slivers of the Stones ("I kinda like it, it's rock'n'roll and you can't fight it").
This is also far from tackhammer all the way, they work some good dynamics (the slow and menacing introduction to The Roulette) to give their songs structure and breathing room, and its economic running time make it one where -- if rock'n'roll metal is your thing -- you immediately hit "repeat".
The note accompanying this read, "thought you might be interested in a little home grown dirty rock'n'roll".
Very interested. Everything here sounds like a single for rock radio.