Graham Reid | | <1 min read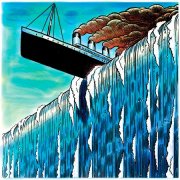 On a cursory listen, this album by the Auckland three-piece Spa (Steven Tait, Hayden Sinclair, Brian Donnelly) plus guests seems a little slight and unfocused. An acoustic instrumental opens proceedings, later there is indie.pop, alt.rock, a touch of Plastic Bertrand/Ramones-like punk-pop (Lionel Lopez, about a former sports star?), a little shoo-wop pop . . ..
But -- and might we mention the terrific cover art by Mat Tait? -- there is much more going on here than first impressions. The lyrics are droll and wry, the point of view is from someone where things haven't gone right: "The press said I was the best of the worst dressed guests" on Fraulein; the lovely Please Let Me Down; "I've got to do what you expect me to do only I don't know how" on Getting Unscared; Rolling Holy with "you absorbed my will and that's a crime".
Ethics at the end is a lovely pop song with its plaintive, "Charley, will I ever see you again, (when this is all over)?".
Some of these pieces are a little undeveloped, but at just 28 minutes long you want to immediately push repeat play and discover another dimension, pop reference or favourite.
Kinda cool.
(I couldn't find a clip for one of the songs from the album, the one below is for a previous single.)