Graham Reid | | 1 min read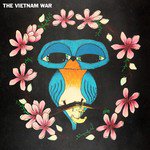 Despite the explosive connotations of their name, Auckland's Vietnam War are far from an incendiary rock outfit. Rather, they are in that country rock lineage which reaches back to the Byrds (there's a little pre-Sweethearts Byrdsean jangle in the mid-ground of the opener High Window) and runs through the Band, and to the early Renderers and the Warratahs/Wayne Mason in New Zealand.
They are less alt.country than you might expect also. Love is Nothing comes with a Ghost Riders guitar twang, and there are real downhome charms to songs like Beat My Time and the Neil Young-like acoustic strum of Saw A Light.
Yet there is a real edge of some of the first Flying Nun bands here too in the sway of So Long and the slightly menacing mood of Monster Song.
So, not a band it is easy to piegeonhole and that works to their advantage on an album which rewards repeat listening because, first time through, the vocals of Lubin Raines sound a little samey and don't rise (or drop) to better effect. And the jaunty setting of Murder Song rather uncuts the dark threat of the lyrics, a slower pace might have let Raines really dig into that baritone he can deploy at times.
But repeat plays allows for the musical diversity to reveal itself: High Window is a hypnotic pop-rock opener, Heavy on My Mind is a moody and quietly understated ballad, and Children sounds almost impossibly ancient, as if it has drifted in from some rural outpost.
So Long is a standout with its plaintive quality and supportive backing vocals, Wish the Same is a late highpoint, and the collection goes out with the harmonica country-jangle pop of The Same Thought which sounds like possible single to these ears.
So the Vietnam War, from their name on, deliver the unexpected . . . and it is very much time well spent in their fine company.
Like the sound of this? Then try this.