Graham Reid | | 1 min read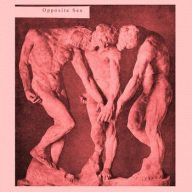 Opposite Sex out of Dunedin have a lot to live up to with their product description: "Haunting waltzes and hyperactive melodic no wave, darkness and light, good and evil, innocence and guilt. The sound of this young trio is, they say, some kind of of absurdist-logico mix of Euro-pop, Beat poetry and subterranean lo-fi adventuring".
Quite a mouthful -- and yet, oddly enough, they manage to tick off most of those boxes. I don't get the Beat poetry reference but there is fractured pop and notably the "subterranean lo-fi adventuring".
Songs like Le Rat, Mary Lu (sung by drummer/keyboard player Tim Player), Dada Creep and Master/Slave have a casually damaged New Wave quality, albeit cut across by buzzy guitar and a trickle down from the lo-fi lightlydelic end of early Eighties Flying Nun. And if Lucy Hunter's vocals aren't always the strongest, it hardly matters as the songs are persuasive enough, especially the punky'n'prickly Got to Eat where Player takes the lead.
Hunter is more at home on the dreamy Panther Fight and the faux-innocent girlie tones of A Year on Own. And the fuzz-pop of Hamish and Chips which clocks in at a tidy two minutes.
But that pop economy doesn't constrain them and in the course of these 13 songs (which average around three minutes) they pack a lot of information and hooks into each.
There's some classy guitar work here (Fergus Taylor) which at times sounds like it has been scoured by steel wool but also has a fluidity which carries you along (Listen, Sea Shanty, which isn't incidentally) and can call to mind the young Tom Verlaine, especially on Vague Notion which seems far too short at two and half minutes. He sounds like he might have a suspicious jazz background in places too (Outro).
Opposite Sex are flying well below the radar and don't appear to venture too far from Dunedin, but there is plenty of alt.pop and student radio material here for them to very quickly become indie pop darlings.
Surprisingly addictive.
Like the sound of this? Then try this.