Graham Reid | | 2 min read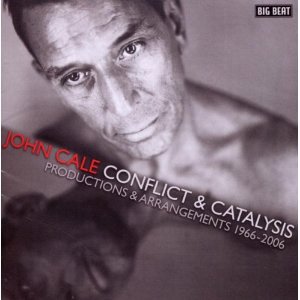 Although his former comrade in the Velvet Underground, Lou Reed, gets the column inches and slavish devotion, a serious career consideration would say John Cale has made the more interesting music and, as a producer, certainly had his fingerprints on some of the most exceptional and/or interesting albums of the rock era.
This non-chronological 20 track collection of some his Cale's production work between 1966 and 2006 is a reminder of just how broad his influence has been in the studio. It's a long way between the drone of the Velvet's Venus in Furs, his grisly mix of the Stooges I Wanna Be Your Dog to the Happy Mondays' Kuff Dam, the Mediaeval Babes' Omnes Gentes Plaudite and his work with Brian Eno on Spinning Away (from their Wrong Way Up album of '90).
The short but focussed essay in the liner notes covers the lengthy career of John Cale OBE, and what is notable is the breathe of his own music. From visceral and damaging rock (try this by way of example) to musical settings for spoken word, avant-garde and orchestral work, Cale has hardly skipped a genre (he's a big but selective hip-hop fan), which explain why this collection can move from Patti Smith's Gloria to Nico's poised piano ballad Afraid and into the Modern Lovers' stripped down Pablo Picasso with such ease.
Cale was there for all of this and more as producer and sometimes arranger, and often agent-provocateur in the studio. He was an art-rocker but the balance was fine between both ends of that description.
Not an easy man to be around sometimes, but the artists just kept coming back because of the experience -- and odd or sympathetic angle -- he would bring. The liner notes don't shy away from stories of him terrorising those he would work with.
"It started off well enough," says Duane Denison of The Jesus Lizard, "Cale had us doing unorthodox things that we wouldn't normally have done and then little mistakes started happening, which he wanted to keep.
"That was kind of interesting, but then he just got more and more inflexible. Basically, we did everything he asked us to do and he wouldn't do anything we wanted him to do. That's not a collabroation.."
Only one track survived, the instrumental Needles for Teeth remixed by Jim O'Rourke, from these fraught sessions in '97. It's on this collection.
Of course any such compilation of such diversity is bound to have its places where the style or song doesn't resonate, but if rock'n'roll from outside the mainframe has ever been of interest, then your attention will waver rather less here than on a That's What I Call Music collection. There's a rockist sensibility in most of the selections, even those Mediaeval Babes.
And you also get to hear those bands who have somehow eluded you down the decades like Harry Toledo and the Rockets (taut NYC rock), Marie et les Garcons (CBGBs white-funk pop), Cristina (tongue-in-chic avant-disco) and others.
Cale was also never shy of the strange (the lovely and different Chunky, Novi and Ernie here with the arthouse and cinematic Italian Sea) or pop (Squeeze with their frantic Sex Master).
After a sampling of this you perhaps need to leap into Cale's own double disc collection Seducing Down the Door 1970-1990.
He's quite some journey.
There is more about John Cale at Elsewhere, including an interview, at Elsewhere here.