Graham Reid | | 1 min read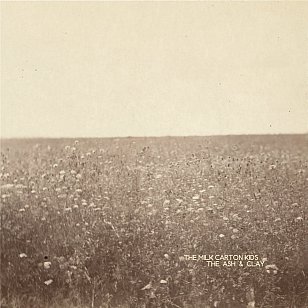 Two perspectives on this come to mind.
If you are under 25 and entranced by this duo, then go see your grandparents and borrow those old Simon and Garfunkel albms they are so attached to that they never threw them out.
And if you have early S&G albums this one is proof of what your Mum said: never throw anything away, it'll come back into fashion again.
The two singers here are Kenneth Pattengale and Joey Ryan from California -- more like Simon and Simon than S&G perhaps -- and these acoustic ballads were recorded live over a few days last September. The effct is like having them (or S&S/S&G) in your lounge. There is a beautiful intmacy and the songs deserve that.
In the liner notes Joe Henry says he hears them as a single character, and you cannot help hear Simon (early solo years) in songs like On the Mend with its poetic economy, evocative images ("the dirt under the nation, forsaken, on the mend") and religious subtext.
And in a song like Jewel of June ("the voices of our fathers whispers of our death") they come off as preternaturally mature -- as Neil Young was with Old Man -- and reflect on lives yet t be lived ("it only taks a moment for a lifetime to go by"). It also takes the weight of a word as loaded as "mercy".
And in Memphis they astutely put Simon's Graceland into the centre of the frame in a melancholy song which takes the measure of the emotional state of the nation: "This is ain't a trip with my son, there's no guitar shines in the sun, those days are gone, may new ones come before it's all just a museum . . . Graceland is a ghost town tonight, I guess it's been a long decline, God bless the souls that shook up mine".
Beautiful.
You might never accuse them of originality in one sense, but there is an honesty and lyrical integrity at work here. And a weariness in places which is almost palpable.
After the recent Paul Simon concert I met a guy who moaned that Simon should have done a lot more acoustic songs from his S&G songbook (not the same guy who told me he'd never go see Dylan until he did an acoustic show in a small coffeebar, but of his kind).
All I can say is, my friend if you are reading this, the Milk Carton Kids have got an album for you.
And kids if you like this, Simon and Garfunkel have got albums for you. These ones.