Graham Reid | | 1 min read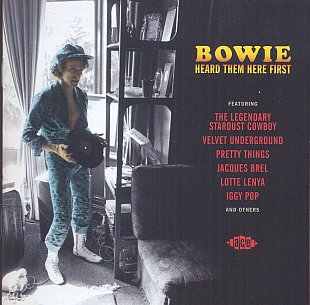 The glue that barely holds this diverse 24-song collection together -- Paul Revere and the Raiders through Johnny Mathis, Lotte Lenya and Roxy Music -- is that these are the originals of songs David Bowie covered in his long and shapeshifting career.
The timeframe is as wide as the songs: It runs from Revere's oddball garageband Louie Go Home which Bowie recorded when he was Davie Jones and the King Bees in '64 and on to I Took a Trip on a Gemini Spaceship by the Legendary Stardust Cowboy (who gave Ziggy his surname) which appeared on Bowie's Heathen album in '92.
Naturally there are five from his Pin Ups covers album of '73 as centrepieces: the Mojo's Everything's Alright, the Easybeats thrilling Friday on My Mind, the Pretty Things' raw Rosalyn, the Merseys' Sorrow (from which George Harrison appropriated the line "with your long blonde hair and your eyes of blue" for his psyche-rocker It's All Too Much) and the Kinks' Where Have All the Good Times Gone.
Bowie certainly had eclectic tastes and at times this sings like a brilliantly retro jukebox with Bobby Bland's aching I Pity the Fool (a single for Bowie's band Manish Boys in '64), Martha Reeves and the Vandellas' classic Dancing in the Street and the Modern Lovers' reductive Pablo Picasso.
But at other times it takes a darker sideroad: the Velvet's White Light White Heat, Jacques Brel's Amsterdam, Lenya's Alabama Song and the Walker Brothers' late period Nite Flights.
And perhaps it's just me not reading the credits closely enough but I didn't know Fill Your Heart on Hunky Dory was actually a vapid and jaunty song by Biff Rose which Bowie vastly improved on. Or that Criminal World on Let's Dance was originally by the suave but lightweight pop outfit Metro.
If you've never heard the Legendary Stardust Cowboy you are in for a rare . . . treat? Let's just say he's an experience.
So a strange and sometimes strangely rewarding trip through a scrapbook of songs which at one point -- because of their cover of Roxy's If There is Something -- sent me back to Tin Machine II.
I hope it doesn't have that effect on you.
See here for the similar compilation Ramones Heard Them Here First and here for the New York Dolls Heard Them Here First.
.