Graham Reid | | 1 min read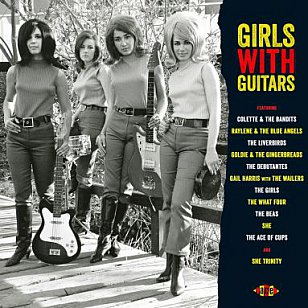 At the end of the first side of this record -- yes, it's a record, bright red vinyl too -- is a great lost classic.
It is soulful belter Gail Harris from Washington state with the semi-legendary local group The Wailers (not Bob's band) tearing into Ike and Tina Turner's I Idolize You. The song was lifted from the album The Fabulous Wailers at the Castle (which you can stream free here, and you should).
In many ways it shouldn't be on this terrific compilation because although she's a girl (a teenager at the time) she doesn't wield a guitar and for this song the Wailers were more a funky, organ-driven soul band than a guitar group as the rest of the acts on the album are.
No matter. It is so thrilling that you'd be glad to hear anywhere.
This collection -- in a striking cover which emphasises bouffant hair, breasts, belt buckles and boots -- puts the spotlight on these sassy girl bands of the Sixties among whom are the better known, Shel Talmy-produced US band Goldie and the Gingerbreads (here with Please Please) and the Liverbirds who played the Star Cub in Hamburg (the driving Bo Diddley is a Lover).
The lesser-known names include Colette and the Bandits with their sole single A Ladies Man (also Talmy-produced), the Debutantes from Detroit (a sexy romp through the classic Shake a Tail Feather), and the Girls who were on shows with the Byrds, Yardbirds, Who and others -- and played a birthday party for Bob Dylan -- with their moody original My Baby.
Of considerable interest is the What Four with their cult hit I'm Gonna Destroy That Boy (produced, arranged and conducted by Teo Macero who later worked with Miles Davis among others) and the Beas with International Girl which the excellent liner notes rightly observe sounds like the Bangles of 20 years previous.
She from '70 with Outta Reach are more about psych-rock than pop (and organ rather than guy), guitarist Mary Ellen Simpson in Ace of Cups drew praise from Jimi Hendrix at the time and the evidence is on their garageband, five minute Stones ("I'm in love with the Roling Stones because their grass is greener").
The final track is by She Trinity from the UK with Climb That Tree, a band which was signed by pop producer Mickie Most but are here repesented by their final single which nudges towards economic prog-pop.
Not everything here is up to standard of Gail Harris, the What Four, Beas or Ace of Cups, but this lovingly compiled album -- one fo a series on Ace who also have full albms by the Debutantes, She, Ace of Cups and the Liverbirds -- is on balance much more than just a curiosity collection.