Graham Reid | | 3 min read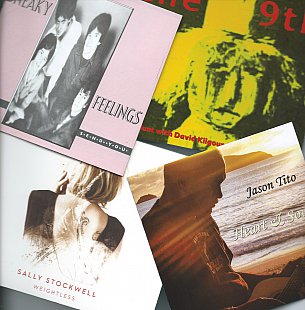 Facing down an avalanche of releases, requests for coverage, the occasional demand that we be interested in their new album (sometimes with that absurd comment "but don't write about it if you don't like it") and so on, Elsewhere will every now and again do a quick sweep like this, in the same way it does IN BRIEF about international releases.
Comments will be brief.
Sam Hunt with David Kilgour and the Heavy 8s; The 9th (Bandit King): The previous album attributed to Clean guitarist Kilgour and the distinctive voice of poet Hunt, Falling Debris, was an uneven affair (and didn't feature Hunt, just Kilgour singing his words). But this one with Hunt reading -- perhaps because his sing-song delivery is so integral to his art -- is considerably better. Alongside two of Hunt's best-known poems -- Rainbows and a Promise of Snow, Maintrunk Country Roadsong open this -- here too is their treatment of James K. Baxter's Gunner's Lament and Jerusalem Blues, and Yeats' famous The Second Coming (over piano). Kilgour and band match the pathos, probity and love in Hunt's voice and lyrics with deft shifts of sonic settings: the acoustic backdrop on New Plateau Song as perfect as the bubble'n'jangle on Wavesong and disconcerting slews of guitar and percussion on Jerusalem Blues -- almost a farewell by Baxter , then only 46 -- which follow. A fine collection/series of interpretations . . . and in When Morning Comes we have a terrific improvisation where Hunt almost takes off as a singer while Kilgour and band drive home a minimal Velvet Underground groove. Recommended.
Sally Stockwell; Weightless (Ellamy): More familiar as an actress on stage and the small screen (Shortland St, Outrageous Fortune, Nothing Trivial etc), Stockwell here allows her poetic side to fly free in songs -- augmented by considerable talents on everything from acosutic bass and trumpet to cello and harp -- which sit somewhere between sophisticated chamber-folk (Achilles' Bloom), lowkey cabaret (Story, Royal Flush) and the wake of people like Marianne Faithfull (without the wheeze) and Tom Waits (ditto). Some of the songs plod (the five minute Lair waits too long to play towards its crescendo) but for the most part she proves a thoroughly engaging artist with the spirit of a genuine songwriter, an astute eye for telling detail and a lyrical vocabulary deeper than most. The title track even manages to incorporate medical language into a soulful ballad for her late brother, music producer Ben Stockwell. Definitely not an actress just having a dalliance in music. For more on Stockwell or to purchase here album go here.
Jason Tito: Heart & Soul (Mad Mile): Produced by Daniel Hewson (see here), this collection of smooth soul, boiling funk and gentle old school rhythm and blues (by a man perhaps old enough to be Hewson's uncle) suffers from just one limitation. It would have sounded so much more alive and vibrant if Tito had been backed by a full band rather than just those economies required by artists down the bottom of the slippery pole trying to claw their way up. It's over to Hewson to do all the arrangements and parts (and he certainly can, he is gifted in that regard) . . . but that takes nothing away from Tito's singing and songwriting (Take a Look At Me Now is a classic soul ballad beamed in from the early Seventies) so this stands as an impressive calling card. For both Tito and Hewson. One of those lowkey releases which reminds you the depth of talent out there, beyond those commanding mainstream or indie media attention. Sample it at Amplifier here. Prepare to be impressed.
Sneaky Feelings; Send You (Flying Nun): A couple of years ago Elsewhere essayed Sneaky Feelings, one of the most impressive and musically ambitious Flying Nun bands (songwriters Matthew Bannister, Martin Durrant and David Pine were unique and distinct talent) . . . so this expanded edition of their debut album -- not to be confused with that now-lesser reissue under the same name we wrote about then -- could easily have appeared as a Recommended Reissue. Here is the remastered jangle-pop, folk-influenced balladry of their debut album Send You, a re-edit of their Be My Friend single, the three songs from the lovely Husband House EP and those four songs from the now deleted '93 CD reissue of Send You. Yep, it's getting hard to follow the SF reissue (I didn't even mention the Positively George Street comp) but here they are again for old fans and, with any luck, a new generation curious about how reductive that "Flying Nun sound" definition was. Sneaky Feelings stood as a band apart. In the best of possible ways.