Graham Reid | | 1 min read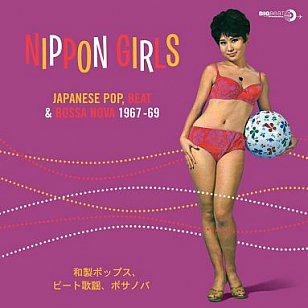 Elsewhere has happily passed this retro J-pop path previously with Nippon Girls 2 . . . but with the "prequel" now available -- also on vinyl in a gatefold sleeve and again with an excellent essay by New York's Sheila Burgel who has a great girl pop website -- we once again immerse ourselves in "Japanese Pop, Beat & Bossa Nova 1967-69" (as the subtitle has it).
Of course it would be easy to dismiss albums like these as only appealing to the hipper-than-thou crowd, which may be true. But much of this is such damn fun (when it isn't just a little odd or even just pretty terrific) that the argment fall sat the first turn . . . that here being the upbeat organ'n'horn soul pop of Black Room by Jun Mayuzumi who -- Burgel tells us -- as a pre-teen had sung in jazz clubs and was signed to a record deal at 14.
If her career was mostly in mid-tempo ballads she certainly let go on Black Room which was the flipside of her '68 single Koi No Yuuwaka. She dives into the vibrato end of soul-pop but also delivers sexual yelps.
That notion of wantonly released sexuality appears on the finger-snap doo-doo shooby-bop bossa swinging Tsukikage No Rendezvous by Keiki Mari but in an odd form: It is something of a dialogue between the singer (who plays it fairly straight) while the male voice interposes salaciously suggestive lines in English ("Oh my baby . . . No I don't know my honey," he purrs). I'm going to have to ask a Japanese friend what the gal is saying for him to respond in such a sly way.
I can guess though, because she's kinda coy.
There's also a bit of post-coital sighing on the subtle pop of Suki Sa Suki Sa Suki Sa (hmmm) by Nana Kinomi and Leo Beats . . . which ends in English with "I love you, I love you, yes I doooo" (And you should wait for the final three seconds for the punchline.)
As with the previous collection there is a tip of the scales to cute bossa rather than the Sixties "pop" and "beat" the title promises (that said, Ryoko Moriyama with the orchestrated Latin sound of Ame Agari No Samba is seductively louche).
Among the 12 songs there is filler -- although Ayumi Ishida's easily dismissed melodramatic song invites a re-hearing after you read the liner essay.
These days the driftnet trawl of non-European-axis pop culture might seem to be reaching into the lower depths, but when collections like this can bring great, if transitory, pop like half of the songs here then we should all be mindlessly cheerful.
Here's a big debit though: nice to have the fold-out wall poster but a download should seem obligatory in this sonically one-dimensional world.
And if we still have your attention: this is something really worth having and enjoying. Very special in my world: check the clip and play it to someone under five . . . and watch their eyes!