Graham Reid | | 1 min read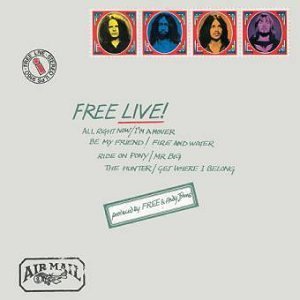 By the time this album was released in late '71 the original band had broken up.
But theirs had been a remarkable run with four studio albums in two years, an appearance at the Isle of Wight Festival and relentless touring which ensured the reputations of singer Paul Rodgers (still frontman for Bad Company) and guitarist Paul Kossof, the inspired blues-rock player who died in '76.
Their career ran roughly parallel with Led Zeppelin's, but where those guys were older, notably Jimmy Page who'd been a session music then in the tail end of the Yardbirds, the members of Free were barely out of school.
In fact bassist Andy Fraser was only 15, Kossof just 17 and the others -- Rodgers and drummer Simon Kirke -- were 18.
Yet even for some so young they'd done time in other bands and brought considerable experience to the stage, along with enthusiasm and hunger. Fraser had, astonishingly, played some gigs with John Mayall, Kossof and Kirke had been in Black Cat Bones and had backed blues pianist Champion Jack Dupree on tour and the album When You Feel the Feeling You Was Feeling in '68, the year Free formed.
Right from the start they were recognised as being special, they were signed to Island Records and their debut Tons of Sobs was produced by Guy Stevens (who would do the Clash's London Calling a decade later) and the Fraser/Rodgers team emerged as increasingly confident songwriters.
Their third album sprung the massive -- and much covered -- hit All Right Now, an edited version going top five in the US and UK.
In terms of chart success they couldn't follow it up, Kossof increasingly fell back on drugs, their fourth album Highway -- released after the Isle of Wight appearance -- would be the last of the original line-up.
Always an acclaimed live band (All Right Now gets extended treatment here), this reissue with extra tracks delivers their sweat and sinew as it should be heard.
Even at the time it was an odd one though, because after the live songs recorded in Sunderland and Croydon (which includes their version of Albert King's The Hunter) there is the tacked-on studio song Get Where I Belong which takes the mood right down. It's a quieter acoustic piece which sounds like a farewell coda.
Their story wasn't really over however and there was an attempted reunion (and albums), then Kirke and Rodgers formed Bad Company and Kossof the short-lived Back Street Crawler.
Never a singles band, and arguably not even an albums band, Free made their reputation on stages large and small . . . and the dirty magic happened between Rodger's tough vocals and Kossof's blistering and inventive guitar playing.
Which explains why LIve! -- now on vinyl as well as CD -- is a recommended reissue.