Graham Reid | | 2 min read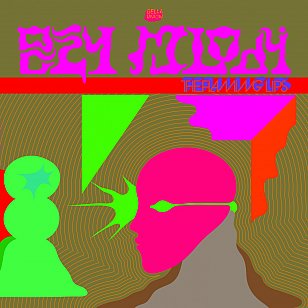 At first blush this is possibly one of those albums you want to like more than you do, just out of regard for the band's wonderfully wayward path.
But the path has lead them to this?
Calling it a slow grower – usually a compliment, meaning an album which will endure – is apt. The first third is laboriously slow in its dreamy psychedelia (a less clinical early Floyd) and while the sonic effects such as panning suggest this was made for those dope'n'headphones times it initially sounds so amorphous and ephemeral that there's very little to grip onto.
There's a concept floating around too – something about a drug of the title (which is apparently Polish) allowing people to sleep for months in some future fairytale land – but any album with unicorns, faeries (yes, spelled in ye olde style), wizards and witches is doomed to conjure up the worst excesses of the late Sixties when rock stars on LSD genuinely believed they could set The Bible to music or that Lord of the Rings somehow contained the secrets of the universe.
But that kind of indulgent excess has always been Flaming Lips/mainman Wayne's Coyne's metier. So we just have to accept that, as the title of their 2002 compilation of very early songs had it, "finally the punk rockers are taking acid".
But if the storyline is easy to let slip by, it is the music which draws you in and, after a few plays, back.
That first half is full of glorious soundbeds and the outstanding Sunrise (Eyes of the Young) has some of the melancholy quivering of a classic downer Brian Wilson song from his surf years intercut with Pet Sounds ("the sunbeams burning my child dreams . . . if I could go back and find you I'd kiss you glowing hair"). And the slightly strained The Castle near the end – which in part revisits this idea of sadness and reflection, and sunbeams – is rather lovely too, you can't help hear a younger, acoustic Neil Young in Coyne's delivery.
The typically clever amalgam of orchestration and electronica, Do Glowy after the midpoint is the defining moment of the more aggressive yet out-there songs, and seven and half-minute Listening to the Frogs With Demon Eyes – with ribbit noises – finds them at their darkest and most disturbing.
This future isn't all faeries and unicorns.
So while shot through with lesser moments -- the tedious One Night While Hunting for Faeries and Witches and Wizards to Kill -- and a dated notion of conceptualism, what remains interesting about Flaming Lips is their willingness to take a chance and end up looking foolish . . . but more particularly that the dreamily or darkly evocative music they conjure up which, quite often here, is really what you are listening to an engrossed by.
A purely instrumental version of this (with editing) would really be something magical . . . more magical than those unicorns "the ones with the purple eyes, not the ones with the green eyes . . . they shit everywhere . . ."
For a user's guide to Flaming Lips albums, earlier reviews and an archival interview with Wayne Coyne go here.