Graham Reid | | 2 min read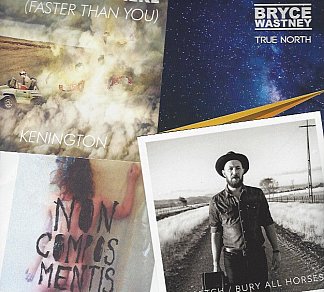 Facing down an avalanche of releases, requests for coverage, the occasional demand that we be interested in their new album (sometimes with that absurd comment "but don't write about it if you don't like it") and so on, Elsewhere will every now and again do a quick sweep like this, in the same way it does IN BRIEFabout international releases.
Comments will be brief.
Bryce Wastney: True North (brycewastney.com)
Nelson-born Wastney popped up at Elsewhere three years ago when he answered a Famous Elsewhere Questionnaire (about whom we asked, "Bryce who?") and we here acknowledge his third independently produced album of acoustic-driven folk-rock with a smattering of contemporary country influences. Or in the case of the uplifting Does Your Heart Belong To Me an understated Celtic reference.
First, we should put him in a frame for you: He's toured with Jordie Lane, Paul Ubana Jones, Anna Coddington and Marlon Williams among others, wrote a book about his life and struggles so far (Running Against the Wind), opened for the Mockers in Christchurch, is a World Vision ambassador and toured a Cat Stevens show Wild World.
So he's a smart, thoughtful singer-songwriter with something to say (life's journey, faith in the face of adversity, love and the joy and doubt that comes with it), has a strong and expressive voice and one who carefully wraps his lyrics in memorable melodies. Fellow musician, the multi-instrumentalist Ryan Beehre who mixed this also deserves special mention.
Here are 10 discreet songs which are well crafted and reward the effort made to locate at his website.
Hearts On Fire, by Bryce Wastney
Stretch: Bury All Horses (Southbound)
There are a number of characters like Anthony Stretch out there in the halls and bars of New Zealand (we think of Stomping Nick and L'il Chuck) taking their rocked up acoustic music to appreciative audiences in small towns and small venues in big cities. Stretch and his small band here pull in twanging country guitar, harmonica, mandolin, banjo and some thoroughly enjoyable clap-a-long pop into the mix and the 10 songs are snappily produced by Wayne Bell at the Lab in Auckland.
He does fine downbeat and poetic balladry (Outside, Start Again, Nothing Can Hurt You about the death of friend), folk-rock melancholy (Not Saying Goodbye), straight-up crowd pleasers (Less Rock More Roll) and classic pop-rock (Soul).
An album which is more than just a memento of a great gig. Stands on its own solid legs.
Soul, by Stretch
Kenington: Going Nowhere Faster Than You (keningtonmusic.com/Aeroplane)
British-born Mark Kenington has a big sound and vision for his indie pop which opens on this debut album with the heroic, widescreen sound of Walking the Line buoyed up by brittle guitars. It announces an album as much Seventies stadium-bombast (the phone-waving Spinning Free) and big-hearted ballads (Is It Any Wonder) as it is Nineties Britpop. At times this can be extremely busy-sounding (try the title track) where every space is filled with guitars and keyboards by Kenington and multi-instrumentalist/producer Andrew Buckton.
When it takes a breathing space as on most of Diamond Ring we can better appreciate Kenington's vocals which, in that instance, err towards the emotional fragility of Chris Isaak . . . although by the end the sky is being scaled again.
There are some neatly crafted pop moments here – the bouncy and instantly familiar Hold On – but frequently you may feel some restraint might have served these songs better.
Going Nowhere (Faster Than You), by Kenington
i.e. crazy: Non Compos Mentis (Muzai)
Claire Duncan of Dear Time's Waste is now Maggie Magee and performing here under the moniker i.e. crazy. And she's going into much darker, arty territory . . . sometimes a bit pretentiously so. This is music of theatricality, sex, acerbic observations, anger, anxiety and portentous guitar chords.
And David Bain's phonecall to the police.
An Incident on the Edge of Town, by i.e. crazy