Graham Reid | | 2 min read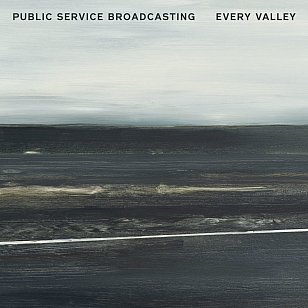 The two previous albums by Britain's boffinish PSB – Inform-Educate- Entertain and The Race for Space – had an audience outreach in their sampled themes: voices from the past evoking speed, progress, science, energy and vigour propelling us into the future . . .
Couple those themes with energetic music borne out of techno, rock, pop and dance, and the albums were very hard to resist. Their videos and live presentation with archival clips just added extra allure, lustre and another dimension.
For many however, this one is going to be harder to connect with because it is about something as unfashionable and politically problematic as coal mining, specifically in Wales.
As an American friend recently noted about President Trump's drive to re-open coal mines in the States: "These people actually want to go down mines in the 21st century? How desperate must they be?"
No, there's very little glamour in a subterranean life fraught with collapses and fires, death in the darkness or black lung disease which had middle-aged men coughing up blood in their dirt poor homes while huddled around the fire and their kids looked on knowing this might be their fate too.
To most people, coal mining is an archaic and inhumane way of life, something very hard to get romantic about or nostalgic for.
But PSB are canny enough to know this, and so take an interesting skew. Not into the bleak lives of miners, but into an almost heroic and stoic world where men did what others wouldn't.
It opens by addressing the low regard in which they were held but also their assured arrogance (the deliberately grandiloquent title track at the start with a sample from Richard Burton's rumblingly poetic and Welsh baritone and unrolls like a cinematic opening sequence about "the kings of the underworld").
Then there is the aural descent in the cage, down to the pit and possible sudden death.
But here too is the sense of certainty ("the foundation of the future", "enough [coal] for another 400 years", "a secure future") which the industry gave these beleaguered communities in an appalling century which began with two world wars punctuated by the Great Depression.
And then the smashing of the industry and workforce under Margaret Thatcher and her Tory party's iron fist (on the guitar-thrash punk fury of All Out and a voice which says "we went on strike for a job").
This story arc is welded together by PSB's assured sense of driving rhythms, ear-worm melodies (Progress with Tracyanne Campbell's soulful vocals), the humanity at the heart of the story (You + Me with guest vocalist Lisa Jen Brown from Wales' 9Bach) and more . . .
On the face of it, Every Valley might be a much tougher call than its predecessors, but where those previous albums spoke of great projects of science and progress, this one moves more towards the intimate and human story of people in small villages and towns who worked in unthinkably awful conditions only to be marginalised by a society which once depended on them for light and heat.
When the sun sets on the final track Take Me Home with a proud Welsh male choir you can understand why this subject drew in Public Service Broadcasting: It's not about the distant past but about the uncertainties and travails of the present day.
The past is ever-present.
Elsewhere has archival interviews with PSB's J Willgoose here.