Graham Reid | | 2 min read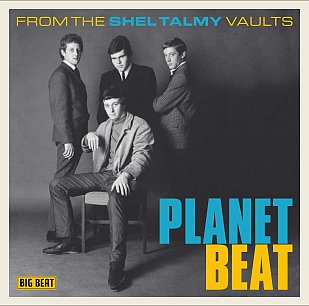 In the early Nineties there was a compilation entitled What About Us? and it collected Merseybeat bands from the Beatles era who had largely been lost to posterity or whose names – other than the Searchers and Tommy Quickly – were barely know outside of Liverpool.
The title was appropriate, although it did suggest there was greatness residing within, and that proved not to be true.
But it was one of an increasing number of albums which trawled deep recesses of record companies . . . as is this one.
Although this one comes with the stamp of approval by producer Shel Talmy, the American who arrived in London just as the Beat Boom was kicking off and he produced classic singles for the Who (My Generation) and the Kinks (You Really Got Me), the Easybeats (Friday on My Mind) and others.
This 24-song collection is the What About Us? in Talmy's extensive catalogue . . . because groups like the Untamed, the First Gear, the Pathfinders, the Zephyrs and other definite articles would hardly be even vaguely familiar names.
But what is interesting right off the bat is that Talmy had seen how US studios worked and session musicians like the Wrecking Crew were reliable and fast. So he pulled around him his own session players and used them on a number of these songs and let the actual band members sit out the session.
And who were those uncredited people? Guitarist Jimmy Page, Nicky Hopkins on piano and drummer Bobby Graham.
So that means the garageband Beat-pop r'n'b sound of Sean Buckley and the Breadcrumbs gets a lacquering from Page's fuzzbox, as does Wayne Gibson's rocking guitar-band take on See You Later Alligator (with piano hammering by Hopkins). Page's solos on these might have dropped off a Yardbirds album.
The Tribe – with guitarist Frank Torpey and organ player Martin Lee elevating matters -- get a sleazy sound going, like a more conservative Pretty Things. They might have been quite something live.
The Lancastrians' Lonely Man sits at the midpoint of the high harmonies of the Ivy League and the Searchers (a pretty nice period piece actually), the Talisman''s Casting My Spell is strange one with a thin Bo Diddley beat but an almost breathless vocal. It's strangely compelling.
Among those who seemed to have had considerable unrealised promise were The League of Gentleman who might have evolved into something like the Zombies or the Fortunes on the basis of their r'n'b pop of How Do They Know (with sax). And guitarist Jim Duncome in the Hearts had the whole surf-cum-Telstar rock/Sabre Dance idea down pat for their b-side Black Eyes. Apparently he still plays (in other bands) to packed houses.
Of course there' are some unworthy musical vehicles and bands here . . . like the Imp-Acts whose song It's Superman is as weak as the title suggests but has a fine piano part (Hopkins presumably). Their Our Love is Gone is more straightforward and could have scraped into the top 20 back in the day.
Much of this is generic pop of the period (the Liberators' Gotta Have You) but a good half of these songs stand out for various reasons (the broody pop of Please Go by the Trekkas which takes a nasty and personal turn at the midpoint, Was She Tall by the Lancastrians could have been an enjoyable Ringo album filler on With the Beatles).
Not all of these songs were produced by Shel Talmy but came out on his short-lived labels.
With liner notes by the very knowledgable Alec Palao, Planet Beat is a curate's egg of course and and asks that age-old musical question: What Happened To Them?
That's probably the title of another compilation.