Graham Reid | | 1 min read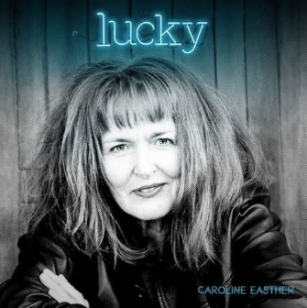 Given her impeccable pedigree – the young Verlaines, a classic early Chills line-up, her own Let's Planet, and others . . . and the recently re-formed Beat Rhythm Fashion – singer-songwriter and drummer Caroline Easther has waited a while for this album under her own name.
But as we learned from the excellent Spaces Between by former Look Blue Go Purple's Francisca Griffin, good things come to us if we wait.
Easther's Lucky – nine originals and a traditional country duet on Hank Williams' I'm So Lonesome I Could Cry with Barry Saunders of the Warratahs – conforms to no particular template.
She touches on jangle indie-pop (Anything for You), country inflections (I Believe You Tonight, the slow and stately guitar twang of the lovely metaphorical and yearning Find Me), dark alt.rock ballads (Down with strident guitar textures and a pop chorus) and more.
But all are wrapped up in tidy pop structures and most make their points in under four minutes.
Goodbye Little Boy is an instrumental with glowering guitars, banjo and Easther's distant, almost wordless vocals coming on like gentle cloud-cover.
Easther's voice is expressive – on the country-flavoured Jaguar Boy she touches that vocal territory Marianne Faithfull occupied when she made her strong return in the late Seventies – and on the almost pastoral setting at the opening of the six minute Meg's Song she seduces you into a personal story in a quietly conversational manner, and again delivers a chorus which is utterly beguiling.
Songs of love, loss, emotional resilience (Your Footsteps Falling) and self-affirmation here come delivered with intelligent lyrics and strong, straightforward, often country-framed melodies delivered by classy, empathetic musicians.
Yes, well worth the wait.
Caroline Easther's Lucky will be released April 6 but we post this now because copies have been available at Beat Rhythm Fashion gigs. It is available now at bandcamp here
Lucky album release tour dates