Graham Reid | | 1 min read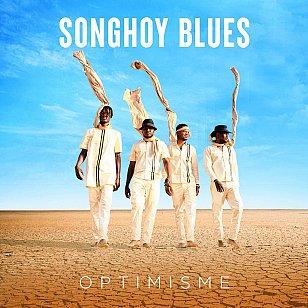 When we first encountered this four-piece from Mali in 2015 with their debut album Music in Exile we were impressed. So much so that it ended up in our Best of the Year picks.
We heard but didn't review their follow-up Resistance – which had an appearance by Iggy Pop – but one of our number chose that in the reader's best of for 2017.
Neither album perhaps prepares you for the opening hard rock salvo on this new album, recorded in Brooklyn with producer Matt Sweeney (Iggy, Stephen Malkmus) who seems to have imported a huge shot of adrenalin, let them skew their tough-minded, new generation of desert blues into a real rock'n'roll ethic and punched everything up a notch or two in directness and intensity.
Songhoy Blues – like Tamikrest, but very different – are of a younger generation than the more stately, traditional and grounded likes of Etran Finatawa and Tinariwen etc.
A product of the conflicts of the region – Islamist fundamentalists, coups etc – but also tuned in to Led Zeppelin (here's their cover of Kashmir), Greta Van Fleet and Western hard rock alongside local artists in the clubs of Bamako where they live.
So what comes through this time is a tightly wound desert blues-cum-hard rock sound which steams with urgency and some searing guitar passages.
It doesn't matter that you can't understand the lyrics (political of course, Worry is in English) but you can fully comprehend the sense of almost desperate energy and potency.
We could have filed this in our World Music pages, but this is rockn'roll.
Malian rock'n'roll for this moment in time.
.
You can hear this album at Spotify here.