Graham Reid | | 1 min read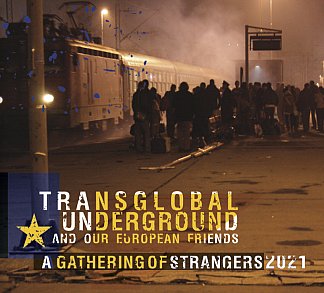 In the very early Nineties I made my way through London streets to an obscure doorway and went down narrow stairs into the heart of the fledgling record company Nation Records.
I had been won over by their glorious genre/culture defying sounds where tabla and the glorious voice of Natacha Atlas sat alongside rap, strings, samples, programmes, trip-hop and so much more.
Their albums were colourful and when I was in the Nation offices they loaded me down with a few of their other releases and sent me away a very happy man . . . who subsequently followed the artists on the label, notably the wonderful Transglobal Underground, Atlas, Asian Dub Foundation, Loop Guru and Fun-Da-Mental.
I wrote about many of these acts in subsequent years but clearly my championing of their pre-Womad multi-culti ethic did no good. In the late Nineties they released an excellent double CD compilation entitled . . . And Still No Hits.
That TgU have kept on going when some others fell by the wayside is not just a testament to their tenacity but that there is still an audience out there for what they do.
This album – their 12thstudio album I believe, and they have had quite a few remix selections too – finds them doing what they always have: blurring the boundaries between Eastern and Western genres, voices and instruments; pulling in guests around the founding du of Tim Whelan and Hamilton Lee; and delivering the transglobal diversity with an inclusive credit, "And Our European Friends".
In a world where -isms, schisms and divisions are increasingly used to separate and marginalise people, TgU operate as a collective mind.
So here we have voices from Hungary, Bulgaria, Poland, the Czech Republic, the Mandinka people and Britain.
These seemingly diverse sounds are woven together within a broad church of world music-influenced trip-hop, yearning ballads, folk-meets-clubland dance . . .
In a post-Brexit landscape where barriers are up and lockdowns are in place, TgU once again stand for unity in the global village.
Not sure the dub-scratch folk implosion of Lisbon/Soldier Song from Ordongosfuzes works and this album certainly has its flatter points.
However few groups could start an album with a remix of the heart-tugging I Left My Homeland in Hungarian, as well as pull off a folk ballad about Van Dieman's Land with Martin Furey and Mandinka rapper Bourama Badji . . .
This time out perhaps an album which reminds you more of what they have done and stood for than what has been achieved this time round.
If for some reason you haven't heard them here's a tip, start with Dream of 1000 Nations (on Spotify here) and International Times (here) then leap 25 years ahead to this one.
.
You can hear this album on Spotify here
.
For more on Transglobal Underground and associated acts at Elsewhere start here