Graham Reid | | 5 min read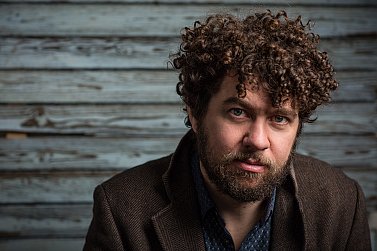 When the great singer-songwriter Paul Brady says Declan O'Rourke possesses a "rich soulful musical voice and a brilliant instrumental ability" and Eddie Reader considers him "one of the finest songwriters on the planet" it is time to sit up and listen.
Mojo says O'Rourke writes "the sort of classic songs that people don't write anymore, that sound like they've been around forever" and back home in Dublin his is a household name among musicians.
He's never been to New Zealand before – the dates below will show that is going to be rectified – but he played with Bic Runga in Europe, counts among his many famous fans Chris Rea, Ronnie Wood, Snow Patrol, John Prine and Paul Weller.
His most recent album In Full Colour found him backed by a full orchestra on a retrospective of his songs which do indeed sound timeless.
Mojo said his Galileo "is possibly the greatest song written in the last 30 years".
His next album is one he has worked on for more than a decade and should see release around the time of his tour: it is Chronicles of the Great Irish Famine.
O'Rourke has songs to sing and stories to tell but he also has considerable stage presence and we're guessing his shows will be unmissable.
Time then to introduce him to you courtesy of a Famous Elsewhere Questionnaire . . .
The first piece of music which really affected you was . . .
Hard to pinpoint. There were quite a few things I loved from an early age that made my feet tap, but I think I feeling something unusual, a kind of melancholy or nostalgia, listening to Penny Lane when I was about seven!
Your first (possibly embarrassing) role models in music were . . .
Poison! First LP as a teenager. Ha!
Lennon or Jagger, Ramones or Nirvana, Madonna or Gaga, Jacko or Jay-Z?
Lennon, Nirvana, Madonna, Jacko.
Come on. do any of those 'other' options really compare in terms of innovation? (leaving out Gaga all together, don't make me gag!)
Okay, Ramones maybe but just not my era. I missed them somehow.
If music was denied you, your other career choice would be . . .
Art - no question. Even before I ever played music - in fact as soon as I realised being a shopkeeper in a sweetshop was not a realistic option, I wanted to be an artist. At six years old I was talking about my first exhibition haha. I was obsessed with Constable,Van Gogh, Da Vinci. I could always draw really well but I never progressed onto paint. Music came along and I put it on hold indefinitely, one or the other kind of. But it ain't over, and I may have that exhibition yet.
The three songs (yours, or by others) you would love everyone to hear are . . .
Ouch… That's tough.
1. If I didn't care - The Ink Spots.
2. Poor Boy's Shoes - by me - a true story, from my next record, (Chronicles Of The Great Irish Famine) out later this October!
3. Unchained Melody - Righteous Brothers. One of the all time greatest melodies, and performances. It had the right name.
Any interesting, valuable or just plain strange musical memorabilia at home...
Hmm. All sorts of things. Someone just gave us a present of a Dulceola Gramophone, You have to wind it up. It plays 78s, and it's just magical. We're getting a lot of fun out of that.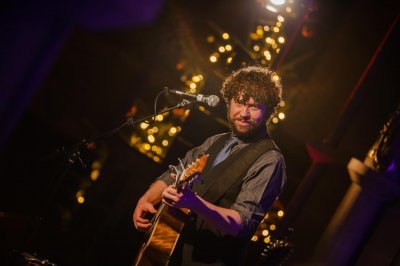 The best book on music or musicians you have read is . . .
'Famous Uncle Eddie's Great Book of Unwritten Rock n' Roll Rules' - I haven't finished writing it yet but wait for it!
Best one I've read though - The Artist's Way by Julia Cameron. It's not specifically for music, but for anyone creative, or anyone who wants to be creative. In fact it will just help anyone to improve their life.
If you could get on stage with anyone it would be?
Your Grandma.
The three films you'd insist anybody watch because they might understand you better are . . .
Three Colours Red, Atanarjuat and How To Understand Declan O'Rourke
The last CD or vinyl album you bought was . . . (And your most recent downloads include...)
I'm terrible, I don't listen to much. I live in my own world a little bit. It's easier to be creative when you don't block the internal radio waves. That said you have to go to the well sometimes. I'm open minded but I don't hear much that I like these days.
Think my last purchase that was downloadable (from this century!) was Sharon Van Etten. She had a great song out that stopped me in my tracks, 'Every Time the Sun Comes Up.'
One song, royalties for life, never have to work again. The song by anyone, yourself included, which wouldn't embarrass you in that case would be . . .
I'm very lucky to have become known for a song that doesn't embarrass me called Galileo. It was my first single so I could have gotten lumped with some terrible pop crap as a millstone. I never get tired of playing it and keeps me in onions.
There are a 1000 songs of other peoples I would be happy to have the same complaint with. Fisherman's Blues by The Waterboys just came into my head for some reason. It's great, and not too obvious.
The poster, album cover or piece of art could you live with on your bedroom forever would be . . .
I saw a Vermeer exhibition recently, and there was a beautiful painting that moved me, it's called 'Woman Holding a Balance'. There are various interesting theories about what the painting means, and that's really interesting too, but it's just a real work of mastery on so many levels. Very inspiring.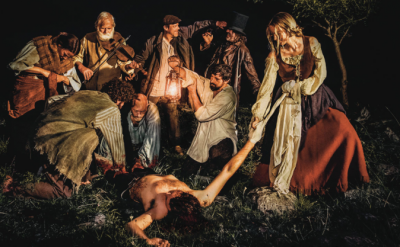 That said - I've just sent my latest cover to print and I'm very proud of it. It re-creates a scene from famine times in Ireland but is juxtaposed with the style of a Caravaggio, using modern photography to mimic the chiaroscuro technique. Maybe that's a step towards my exhibition?
You are allowed just one tattoo, and it is of . . .
Your Grampa.
David Bowie sang, "Five years, that's all we've got . . ." You would spend them where and doing what?
Raising children, growing vegetables, living a simple life with family, and egg-laying chickens.
And finally, in the nature of press conferences in Japan, "Can you tell me please why this is your best album ever?"
Cos it is.
Well what can I say - I spent the last 16 years researching and writing this record, and during the time when I've released another five. The subject is a monster in terms of its vastness, but one that I find very evocative and important to document.
I know it's my best yet.
NEW ZEALAND TOUR DATES
October 7: Hawkes Bay Arts Festival (with Vishtèn). 7.30pm
October 8: Tauranga, The Barrel Room. 8pm
October 11: New Plymouth, 4th Wall Theatre (with Vishtèn). 7.30pm.
October 12:: Paekakariki, St. Peter's Village Hall. (with Vishtèn). 7.30pm.
October 13: Wellington, The Third Eye. 8pm.
October 14: Greytown, Kokomai Creative Festival, 2pm.
October 15: Nelson Arts Festival, (with Vishtèn). 7pm.