Travel Books by Graham Reid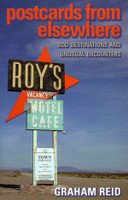 Postcards From Elsewhere
Available from the author through this website. Cost from elsewhere.co.nz is $NZ24.95 (plus $2.50 postage within New Zealand)
WINNER: WHITCOULLS TRAVEL BOOK OF THE YEAR 2006
critical comments . . .
"His engaging style makes these vicarious journeys seem especially real ... his marvellous ability with words delivers well-written passages that give the reader an enhanced sense of location" - New Zealand Herald
"His eye for detail allows him to paint his own vivid pictures taking in the atmospheres of Japan, America, Samoa, Thailand, Taiwan and Belgium. The pieces range from the whimsical and humorous to the matter-of-fact and serious . . . easy to pick up and rather hard to put down." - The Package
"If you listened to him telling these stories at dinner, you'd be entertained and frequently informed" - Listener
"His description of a night in Breaux Bridge in the heart of Louisiana Cajun country is a gem . . . you can smell the bayou" - North and South
AND NOW . . . .
The Idiot Boy Who Flew
WINNER: READERS CHOICE AWARD, TRAVCOM AWARDS 2010
A new collection of travel stories by Graham Reid and a follow-up to the award-winning Postcards From Elsewhere. Available through Elsewhere or Public Address Books.
Travels and encounters in odd corners of the USA, Asia and Europe, unexpected places discovered and the title story about a journey into southern Italy in search of the birthplace of strange saint who flew.
critical comment
"as delightful as you'd expect from such a skilled storyteller . . . trademark anecdotes about fascinating characters . . . the title story about a simple saint whose faith allowed him to fly, demonstrate(s) the treasures to be found as a result of doing a bit of research and exploring off the beaten tourist track . . . marvellously accurate snapshots of people and places from elsewhere; pictures in words which amuse and inspire, entertain and inform".

-- New Zealand Herald

Order direct through Elsewhere $24.95 (plus $2.50 postage within New Zealand) For international order see Public Address Books here.
OR
BOTH POSTCARDS FROM ELSEWHERE AND THE IDIOT BOY WHO FLEW FOR $NZ45 (postage included within New Zealand) For international orders contact Graham direct here: graham.reid@elsewhere.co.nz
For a YouTube interview with Graham about travels, travel writing and The Idiot Boy Who Flew, check this out.
(The camera eventually finds him!)
Or you can listen to this radio interview with Kim Hill (down the page a bit) which traverses Abbey Road, the Beatles Remasters, travels and The Idiot Boy Who Flew.