Graham Reid | | 5 min read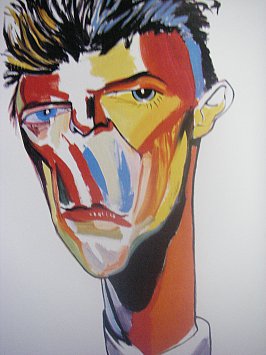 For a while, quite a while in fact, David Bowie could do no wrong – and when something seemed like a career move ("I never did anything out of the blue") it worked to his advantage.
Even when he was The Man Who Fell To Earth after Lou Reed decked him in a London restaurant, it was the day before his new single was released – Boys Keep Swinging.
You just can't buy that sort of serendipity.
Bowie's career is usually worth surveying for those reasons alone – it's fun, long and varied. As he entered the 90s he embarked on a major tour singing old material for what he said would be the last time.
So David was back. But which one?
Parallel to the Magical History Tour came the CD reissue of all of Bowie's albums (the ones through EMI anyway) with previously unreleased material, alternate versions and so on.
So as Bowie was putting his past to bed -- in truth the refusal to play old songs lasted about as long as ome of his "retirements" -- out came everybody from Major Tom and Ziggy through Thin White Coke and Fashionable Fascist. Plus the Boring Bits and a portrait of the artist as a Young American.
A veritable kaleidoscope of characters, as someone probably once observed.
It's hardly surprising Bowie had been the chameleon – his early singles were attempts to be The Stones (Liza Jane in '64 as Davie Jones and The King Bees), The Who (You've Got a Habit of Leaving in '65) and The Kinks (Rubber Band in '66_.
None of these worked so Bowie hived off into acting, mime classes, Buddhism and just lots of growing up.
The CD reissue (remastered and approved by Bowie) avoided all that early nonsense and begans with 1969's Space Oddity. Despite the still-eerie single, the album is an uncertain pastiche of late 60s peace love and portaloos ("someone passed some bliss among the crowd" on Memory of a Free Festival) with his earlier hesitant steps in r'n'b Brit rock.
Unwashed and Somewhat Slightly Dazed is a throwback to the r'n'b days but with lines which read in part: "I've got eyes in my backside that see electric tomatoes on credit card rye bread" (true).
There are a lot of similar lyrics on this album, which was earnestly titled Man of Worlds Man of Music in America.
The best stuff is the most simple: two songs to a departing girlfriend (Letter to Hermione and An Occasional Dreamer) and one of the extra tracks, an acoustic place of tasty country-styled guitar rock called Conversation Piece which was the B-side of his next single. The other extra tracks are two versions of Memory of A Free Festival.
The Cygnet Committee is a 10-minute yawning black hole of words but was also the first time Bowie wrote of a heroic visionary character who is betrayed and destroyed.
Within a few years he'd give a name, Ziggy. But everyone has 20/20 hindsight, right?
His next album, The Man Who Sold The World, is much more interesting. Dumping the acoustic niceties, he let go of his infatuation with Marc Bolan (then in a fey pre-T.Rex phase) and plugged in guitarist Mick Ronson. With the demise of hippies (if free festivals were as dull as Bowie suggests in Memory they all died of boredom) the world was ready for a bleaker vision.
Across the Atlantic the Velvet Underground had gatecrashed the party with white noise and black jumpers and now Bowie (soon to assist Lou Reed, Iggy Pop and Mott The Hopple) struck off on a path counting "the corpses on my left" (Running Gun Blues).
This was the Superman rattling with downers and a nice dress. The CD reprints the various versions of the sleeve including the outrageous one of Bowie lying seductively on a chaise longue in his "man's dress."
There's still a lot to like (loudly) on Man Who Sold The World – and a fair bit of it from rocker Ronson.
The title track is a ghostly piece of detachment whenever you hear, it and She Shook Me Cold at the other end (with a wah-wah pedal that shouts off the shiny remastering) rocks the medicine chest. It's gloomy stuff – but with enough heroism and attitude behind the pose to be gripping in places.
The bonus tracks are interesting, too. Holy Holy was inspired by Marc Bolan just before that wordy psychedelic pixie discovered the benefits of three-minute pop singles.
There are early versions of Moonage Daydream and Hang On To Yourself remarkably similar to those on Ziggy Stardust – which shows how close, yet how elusive, that album was for him. It was a little over a year away – but there was one more stop Bowie had to accomplish.
Economy.
If, in retrospect, Man Who Sold the World provided Bowie with guitar-rock style and detached pose (the dress is still quite bewitching too) – then Hunky Dory was the perfect transition to Ziggy.
On Hunky Dory the bitter-sweetness of his writing became more bitter; the sneering lyrics of Queen Bitch, the weary Quicksand and spare opening lines of Life On Mars? ("it's a god-awful small affair to the girl with the mousy hair...")
But the whole thing was also sweetened by piano, strings, a reflective melancholy and hypnotic melodies. Try not remembering Life on Mars or Pretty Things after you've heard them. One of the four extra tracks on the CD is a mesmerisingly poppy version of the gloomy The Superman from The Man Who Sold The World.
There is also a beautifully sad and bleak demo of Quicksand and an alternate mix of The Bewley Brothers. The only dud is the previously unreleased Bombers, a piece of Ziggy-rock lumbered with silly lyrics about bad people dropping bombs. (They kill, you know?).
It's hard now to imagine how The Rise And Fall of Ziggy Stardust and The Spiders from Mars in mid '72 immediately affected a generation of British rock.
It was outré and androgynous, theatrical and grim ("We've got five years, that's all..."). It was glam-glitter for sure, but at least it could rock.
Does it still stand up? Does The Bono wear a funny hat?
The concept that pop will eat itself has always been part of the rock'n'roll contract. It got Ziggy in the course of 11 songs.
But in a neat sidestep Bowie was simultaneously singing about someone outside himself ("we were Ziggy's band") and playing him. When Ziggy was destroyed forever at a farewell show in July '73 Bowie could remake himself in another persona.
(Unfortunately for him he later chose to come back with ugly hindquarters on Diamond Dogs.)
The packaging of these CD reissues was thorough with lyrics, dates, period photos and band line-ups. That's good.
For Ziggy the limited edition came as something special. It's a box with a fat booklet full of neat quotes.
Billboard's Timothy White rates the Ziggy album alongside works by Kafka and Marel Duchamp.
And Bowie? "I packaged a totally credible plastic rock star, " he says.
The bonuses are very good: the disc includes his jealously-driven John, I'm Only Dancing, a B-side originally scheduled for the album called Velvet Goldmine, and unreleased demos of Ziggy Stardust and Lady Stardust – both very melancholy. There's also a previously unreleased straight ahead Ziggy rocker Sweet Head.
It isn't just a sense of weepy nostalgia or lack of other options which says Suffragette City and Rock'n'roll Suicide are great rock songs.
Jean Cocteau once said: "Wisdom is to be crazy when the circumstances warrant it."
Bowie was calculatingly crazy and there was more to come. Much more as it turned out.