Graham Reid | | 2 min read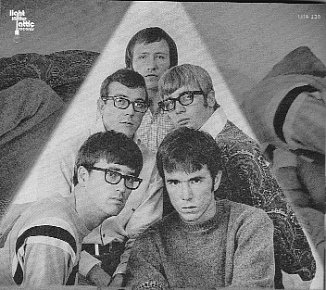 In their photos, the Kitchen Cinq out of Texas in the mid Sixties don't look entirely promising, like buttoned-down high school seniors who have been given the afternoon off from library duties.
And yet . . .
The first thing to pique interest in the 28 song compilation When the Rainbow Disappears; A Drama Worthy of The Kitchen Cinq is that this band from Amarillo were on Lee Hazlewood's own label LHI.
And that the names Norman Petty (in whose studio Buddy Holly recorded) and JD Souther (of Eagles and Linda Ronstadt associations) appear in the fat accompanying booklet.
They also covered Neil Diamond's Solitary Man, Buffy Sainte-Marie's Codine, Chip Taylor's I Can't Let Go (a hit for the Hollies), Van Morrison's garageband classic Gloria, Lennon's Run For Your Life . . .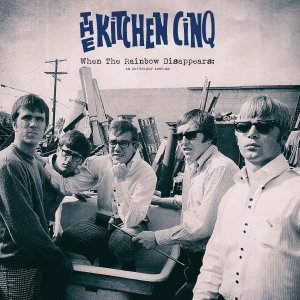 Some of these they did as the Illusions or the Y'Alls because they were the names they'd adopted previously in Texas . . . and by their closing salvos less than two years later they were A Handful.
Confusing? Not really.
They'd worked the Texas area with their post surf-rock, Beatles-influenced sound (with good harmonies which nudged them closer to the Assocation and the Hollies sound) and then in California when they hooked up with Hazlewood a new name was required: the Kitchen Cinq.
Produced by Suzi Jane Hokom -- one of the first women producers and Hazlewood's partner -- they delivered high energy pop (at times they sounded like the tapes have been sped up) but by Hokom's admission they didn't get a lot of traction, despite new hip hairstyles and clothes (all save singer Dale Gardner who remained resolutely the librarian).
Their sole album was called Everything But . . .
Of course.
"I don't think the Kitchen Cinq album sold," said Hokom. "But I don't think anything from LHI sold."
Did Kitchen Cinq deserve to?
Hard to say, you'd have to think back to what the musical landscape in the US was like in the mid Sixties. And when aligned with the Byrds, Dylan and so on the Kitchen Cinq come up short.
Some of their '66 songs are interesting: You'll Be Sorry Someday is like a cross between the Association and the Ventures (and comes with two sudden stops which must have confounded radio programmers), but their version of Run For Your Life gets fuzzbox treatment and -- along with their original Please Come Back -- they come off like the Yardbirds with vocal harmonies.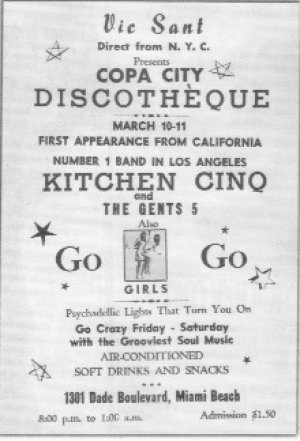 Their version of Gloria is no worse, but perhaps no better, than any other garageband at the time.
There are songs here -- Still in Love With You Baby and I Can't Let Go, both from 67 -- which sound out of step with the changing times. If they'd come out two years previous they'd have captured the zeitgeist of the Beat era.
Yet when they go a little psychedelic as on Dying Daffodil Incident (as A Handful) they don't sound exactly convinced, or convincing.
But among these 28 songs -- a fair split between covers and originals -- there are certainly things worth hearing: the bristling garage rock of Determination, the Monkees-gone-fuzzpop on Please Come Back to Me, Codine gets an Eve of Destruction touch, they pepper in a little early Sixties white-boy blues harmonica . . .
Here's how to conjure this one up in your head: Imagine Herman of the Hermits fronting a Yardbirds wannabe-band out of Texas, but with songwriters whose models are Boyce-Hart.
Then imagine the songs with Hollies harmonies and sped up ever so slightly.
And you don't hear that every day.
The question then is, do you want to?
When the Rainbow Disappears is released through Southbound in New Zealand.