Graham Reid | | 6 min read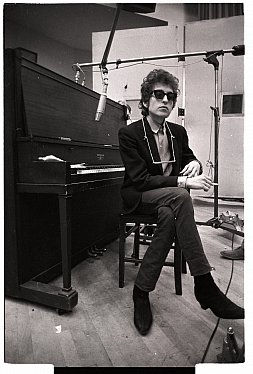 In 1965 Bob Dylan wrote Subterranean Homesick Blues and its innovative video (actually a film, this was before video clips) was much imitated (look down the bottom of this link to just how many!)
In subsequent decades some claimed it as the first rap song (it's not, but you can see the argument) and many many times this spoken word/rant style was much copied.
It appeared as the opening track on his Bringing It All Back Home album and announced Dylan was moving beyond folk and into rock – with this album as a kind of folk-rock bridge.
The US critic Dave Marsh wrote: "By fusing the Chuck Berry beat of the Rolling Stones and the Beatles with the leftist, folk tradition of the folk revival, Dylan really had brought it back home, creating a new kind of rock & roll ... that made every type of artistic tradition available to rock."
Subterranean Homesick Blues, Bob Dylan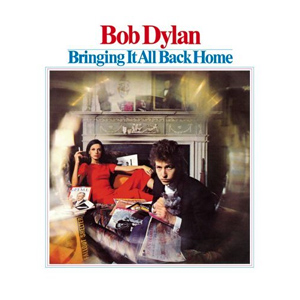 Johnny's in the basement
Mixing up the medicine
I'm on the pavement
Thinking about the government
The man in the trench coat
Badge out, laid off
Says he's got a bad cough
Wants to get it paid off
Look out kid
It's somethin' you did
God knows when
But you're doing it again
You better duck down the alley way
Lookin' for a new friend
A man in the coonskin cap, in the pig pen
Wants eleven dollar bills, you only got ten
Maggie comes fleet foot
Face full of black soot
Talkin' that the heat put
Plants in the bed but
The phone's tapped anyway
Maggie says that many say
They must bust in early May
Orders from the D.A. Look out kid
Don't matter what you did
Walk on your tip toes
Don't tie no bows
Better stay away from those
That carry around a fire hose
Keep a clean nose
Watch the plain clothes
You don't need a weather man
To know which way the wind blows
Oh, get sick, get well
Hang around a ink well
Hang bail, hard to tell
If anything is goin' to sell
Try hard, get barred
Get back, write braille
Get jailed, jump bail
Join the army, if you fail
Look out kid
You're gonna get hit
But losers, cheaters
Six-time users
Hang around the theaters
Girl by the whirlpool
Lookin' for a new fool
Don't follow leaders, watch the parkin' meters
Oh, get born, keep warm
Short pants, romance
Learn to dance, get dressed, get blessed
Try to be a success
Please her, please him, buy gifts
Don't steal, don't lift
Twenty years of schoolin'
And they put you on the day shift
Look out kid
They keep it all hid
Better jump down a manhole
Light yourself a candle
Don't wear sandals
Try to avoid the scandals
Don't want to be a bum
You better chew gum
The pump don't work

'Cause the vandals took the handles
Dylan had immersed himself in the Beat movement in American literature of the Fifties -- writers like Jack Kerouac, poets like Allen Ginsberg on the left in the film footage -- and brought that free-flowing and surrealist literary sensibility into the song.
But he also said he got it from rock'n'roll guys like Chuck Berry, and specifically Berry's Too MUch Monkey Business.
Too Much Monkey Business, Chuck Berry 1956
and going back to his folk roots Woody Gurthrie and Pete Seeger wrote Taking It Easy, the opening lines were
"mom was in the kitchen prepearing to eat, Sis was in the pantry looking for some yeast, Pa was in the cellar mixing up the hops and Brother's at the window, watching for the cops . . ."
The song came from somewhere . . . went through Dylan . . . and since then to somewhere else (many times)
Now here's Elvis Costello from 1978
Pump It Up, Elvis Costello 1978
(When Elvis Costello played at His Majesty's Theatre - since demolished -- in Auckland in '85 he walked up the aisle thrashing out Pump It Up on acoustic guitar. By the time he got onto the stage it had turned into Subterranean Homesick Blues.)
Here is Billy Joel in the Eighties offering a litany of non-sequential cultural and political references for his Baby Boomer Generation, and adding a chorus for radio!
.
This is REM from '87 with It's The End of the World As We Know It
.
And here is country singer Garth Brooks in the Nineties who adopted the form, took it back to the country-framed rock'n'roll of Chuck Berry and managed to also throw in a storyline to it, because country music is about stories.
Ain't Going Down (Til the Sun Comes up), Garth Brooks 1993
.
Now some have said that Subterranean Homesick Blues was a kind of proto-rap thing (it wasn't, rap comes from a different tradition entirely) but here are the Beasties Boys from 2011 (Santigold) from their album Hot Sauce Committee Part Two. They throw in a line from the Dylan song early on. And they sampled him a few times.
Don't Play No Game That I Can't Win
.
Rappers like Kurtis Blow, Common, Mos Def, the Roots, Will.i.am, Kid Cudi and many others like and admire Dylan (and sample him), and Dylan contributed an intro to Blow's headbanging Street Rock in '86. They see Dylan as a street-smart rhyme-spinner like themselves.
From 2009, Juelz Santana ft Yelawolf
.
And from 2013, Steve Earle -- a politicised rebel rocker influenced by Dylan -- with his own take on/reference to Subterranean Homesick Blues . . .
Calico Country, Steve Earle 2013
.
and in 2018, here is New Zealand singer-songwriter Tami Neilson with Big Boss Mama. Check the way the words tumble, especially in the second verse.
.
Oh . . . and this in 2021 . . . which Elvis Costello defended when people accused her of ripping off Pump It Up!