Graham Reid | | <1 min read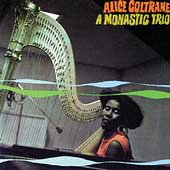 An excellent and intelligent reissue of late-60s recordings by the much underrated pianist/harpist widow of jazz sax legend John Coltrane which includes tracks from two albums, Cosmic Music and A Monastic Trio, and resequences them to shift from quartet to piano trio to harp trio. And it goes out on a previously unissued solo piano piece she recorded during the sessions for John's Expression album.
In jazz consciousness Alice has always been overshadowed by her husband (hardly surprising, genius like his doesn't grace this planet often) and also the period of her best work - full of all that cosmic, universal-consciousness, Indian-mystic stuff with gurus - seems just so passe to hipper-than-thou folks today.
However, should anyone doubt her credentials, the presence of Ben Riley and Rashied Ali (drums), bassist Jimmy Garrison and Pharaoh Sanders on tenor, flute and bass clarinet, should silence any critic.
This delicious, evocative and sometimes sublime music not only transcends its period but often sounds more contemporary than most of what's out there today.
Point off for this reissue not dropping the 1968 interview with Alice which, needless to say, talks all about John, then dead but one year.
Dead John may have been reaching into the beyond, but as Amiri Baraka said in the original liner notes, Alice's piano "broods in its earth imagination."
A rediscovery.