Graham Reid | | 1 min read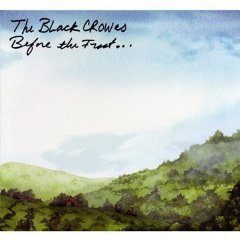 After calling it quits in 2002, frontman Chris Robinson going solo, then their resurrection with Warpaint last year (which brought in guitarist Luther Dickinson of the North Mississippi All Stars), the Black Crowes rarely sounded so on top of their game.

And they followed Warpaint with a double punch Warpaint Live (the album played live and an extra disc of hits and covers).

In front of an audience is the Crowes' natural home and Before the Frost (which comes with a free downloadable set, Until The Freeze), was recorded live over five nights before small sold-out houses at Levon Helm's studio in Woodstock. It finds them once more hooking into that cocktail of one part The Faces, one part The Band, and stirred with the spirit of the Allman Brothers.

Dickinson conjures up Duane Allman; one of the guests is banjo, fiddle and pedal steel player Larry Campbell from Dylan's recent band; and the Robinson brothers Chris and Rich know the value of a Keith Richards riff (Kept My Soul) -- although they break the swagger with I Ain't Hiding which locks onto a weirdly disassembled post-disco rock'n'roll. Your response may depend on how much you like the Stones' Black and Blue period.

It isn't all slewing guitars and Chris Robinson's barely comprehensible vocals (helpfully there's a lyric sheet, they write smart words). The ballad Appaloosa and the folksy What is Home? (which recalls a little of Fleet Foxes) are standouts on Before the Frost, and it closes with the country-flavoured The Last Place That Love Lives -- which leads neatly into Until the Freeze where the fiddle, mandolin, pedal steel and acoustic guitars come out for terrific songs along that Band/ragged country axis, and which actually top Before the Frost.

Rock and country, and rockin' country. They nail them all.