Graham Reid | | 1 min read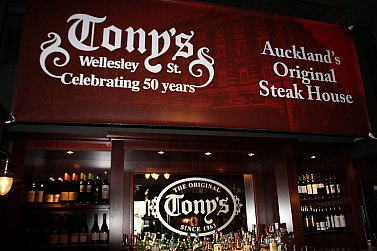 There's a scene that has played out hundreds of times at Tony's restaurant on Wellesley Street in central Auckland. I've witnessed it frequently.
A young person, possibly a student, asks if there's any chance of waiting work. Often they are anxious and looking for their first paying job, maybe presenting what passes for a CV at their age.
But time and again they encounter Donna, who is front-of-house, a smiling, generous and considerate woman who faithfully takes their names and numbers, lets them down gently if need be, but offers that glimmer of encouragement that sends them away reassured they've been heard.
Sometimes on subsequent visits I've seen the same young women carrying meals and clearing tables.
For Donna, these kids are like family. For owner Kenn Henderson – who has run Tony's for more than four decades – the restaurant is like home, as it for his son Kelson, who also works there.
But now Tony's is in trouble.
Last week when I dropped in for a catch-up with friends over steak'n'beers, Kenn told me business was 50% of what it had been before Covid lockdown and the central city was torn up for the City Rail Link and other construction work.
I chatted with Kelson briefly about the orange cones, fluoro jackets and chaos outside that has turned city streets in no-go areas, closed roads and made for wary walking. It's killing places like Tony's.
Maybe I have spent too much time at Tony's but . . .
To read the rest of this love letter to Tony's go to The Spinoff here.