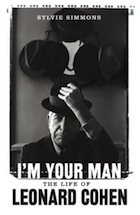 On the eve of his first tour as a musician in 1970 a nervous Leonard Cohen -- aged 34, an acclaimed poet and novelist itinerant between hometown Montreal, the Greek island of Hydra and New York's Chelsea Hotel – requested a mask be made for him to wear while performing. One of his own face.
As biographer Sylvie Simmons – astutely unpicking Cohen's life, lyrics, poems and relationships – observes, "Leonard clearly had enough self-regard that he did not want to operate behind someone else's face".
In this insightful, assiduously researched 500-page book – written with Cohen's co-operation but without his interference – Simmons pulls away Cohen's many masks to reveal . . .
This review appeared in the Listener, December 20 2012. To read the full article go here, but you do need to subscribe to the Listener ($5 per annum) to unlock this and earlier Listener reviews/articles by Graham Reid, plus the magazine's full on-line only content.
There is however a considerable number of Cohen articles and reviews at Elsewhere here. Free.
By Graham Reid, posted Jan 6, 2013