Graham Reid | | 7 min read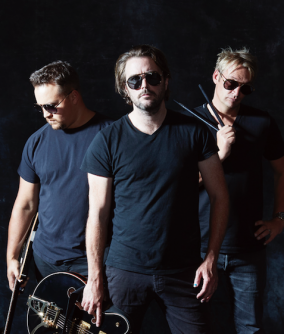 In early 2021 I was approached by the manager of an Auckland band I had never heard of. Not surprising, they hadn't played anywhere and at that point had released nothing. But they were an intriguing prospect because their debut album – which they had funded themselves – was a concept album and had been produced by the top LA producer Mike Clink, best known for work with Guns N' Roses, Motley Crue, Megadeth and Whitesnake.
Quite how and why this all came to be was clear when I met singer, guitarist and keyboard player Adam Stevenson and guitarist Roy Oliver in their upmarket central Auckland loft-cum-studio.
On the wall was a whiteboard with a list of projects and goals, and a remarkable number of them had been ticked off already.
These guys were smart, professional, had money and were organised. I interviewed them and wrote a bio which I'm not even sure was ever used because things kept grinding to a halt with Covid lockdowns.
Now however that band Capital Theatre are ready to launch themselves after a couple of successful singles. Details of their tour and so on at the end of this.
But here is what I wrote in 2021 as a long-form bio of a band which decided to start at the top by hiring an internationally recognised producer for their debut album, A Hero's Journey which is released June 24 in advance of a national tour (see details below).
I think they have a good story . . .
.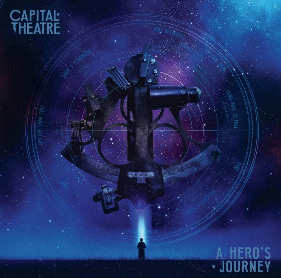 The story is older than the ancient Greeks and as contemporary as Japanese anime: the hero, the quest, battles fought and wisdom won. It is also the theme of the thrilling, forthcoming concept album A Hero's Journey by the Auckland rock band Capital Theatre.
The Auckland trio of singer, guitarist and keyboard player Adam Stevenson, guitarist Roy Oliver and drummer Paul Reid (formerly of the band Rubicon, a Shortland Street actor and now property developer) have a 15-year history playing original music but also corporate functions, local bars and touring together. Two years ago they decided to step up their game and use that collective experience to embark on something close to their hearts and souls.
"We collectively got to the point where we realized we enjoyed playing the covers gigs," says Stevenson, "but over time you lose the passion and want to do your own music.
"And it was a good point in our lives: we had homes, our families were stable and it was time to do something we were passionate about."
And that was to write their concept album A Hero's Journey which they mapped out and, using their collective resources and artillery of top-line equipment in their own rehearsal space, started to record demos.
The concept is based on the most ancient of stories told around primeval fires, in myths, the poetry of Homer, Lord of the Rings and movies like Star Wars: the call to adventure, the hero facing challenges and triumphing over adversity. Stevenson traces the idea for the album back to reading Joseph Campbell's famous 1949 book The Hero with a Thousand Faces.
"When I started looking into Campbell's stuff it was something everyone can relate to it. Campbell's like a savior to anyone who might feel disenfranchised from religion. The way he speaks about how we are shaped by the stories of our ancestors helps someone who doesn't have a faith, because you can see there is this universal story-telling and it occurs with the same kind of framework. And it doesn't matter what religion or culture you are from, this is something common that all people can relate to".
Capital Theatre had the concept and the sound they wanted to achieve, but also that rare combination of talent, experience, passion and a grand vision coupled with intelligent ambition and the drive to create something unique they could be proud of.
"It was almost like building a brand: 'What do you want to look like?', 'What do you want to sound like?', 'What soundscapes do you want to get into?', " says Stevenson, explaining their work ethic and vision.
And when the songs started to take serious shape that self-belief lead them to contacting the legendary producer Mike Clink in Los Angeles.
"We were loving this music," says Oliver, "and knew it deserved a good production, so we reached out to Mike . . . and kept reaching out and reaching out! Mike's manager took a while to respond but he finally came back and said, 'Thanks for your interest, it costs a lot of money, what is your budget?'.
"So we went back with our budget and that checked out but then he said, "Mike's got to love the music'. Because he doesn't just do it for money, he doesn't need to these days."
"He also said they were reluctant to do projects with unsigned bands," says Stevenson, "which we were. And for him we obviously had a zero track record. But we sent him some demos and he obviously enjoyed what he heard so we got on a call with him and got friendly. Maybe two calls later he said, 'Yeah, this'll work, let's start planning'.
"He liked the idea we were doing a full album and that we came at him with a proper organization and structure, and a thought-out album planned with the songs fitting into the conceptual template of a hero's journey."
And so with Clink in Auckland for a week at the band's expansive rehearsal space ("the room has a sound built into it" says Stevenson), then the band hitting Hollywood's famous NRG and Slash's Snakepit Studio in Los Angeles for a week in early 2020 – before Covid-19 kicked in – much of the groundwork for the album was laid down.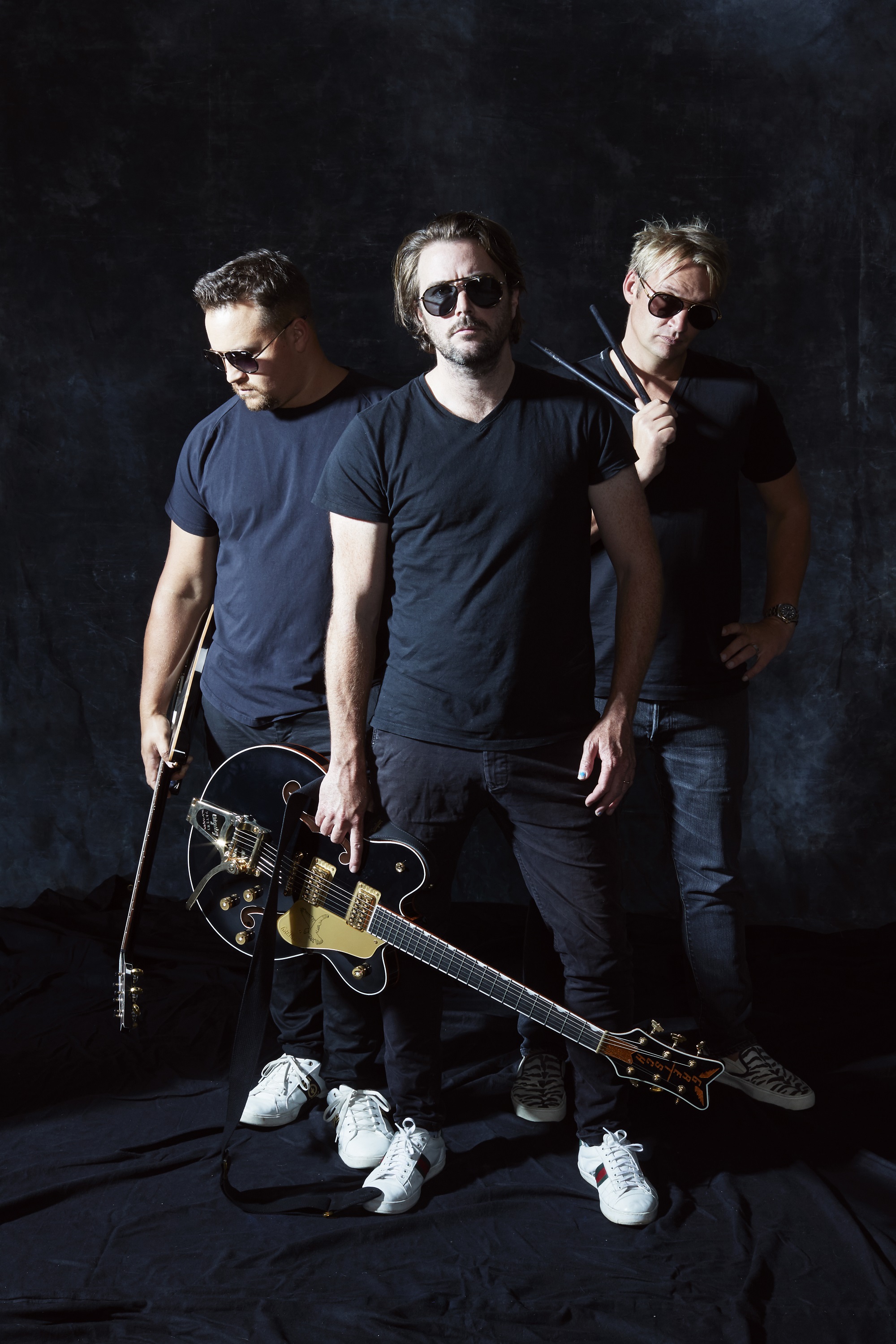 They also drew on some great LA players to further embellish the expansive sound of the songs: among them John Pierce (bassist for Toto); bassist Chris Chaney from Jane's Addiction; Phil X, lead guitarist for Bon Jovi, and string arranger David Campbell – Beck's father who has worked with Adele, Taylor Swift, Michael Jackson, Muse and many others – writing for a full orchestra recorded in Prague.
Further recording took place at Neil Finn's Roundhead Studio back in Auckland with Clink overseeing the sound on Facetime sessions and live input through Protools.
"It got to the point," says Oliver, "where it was really challenging for him so he gave us a call and talked about the frustration of the process and we thought, 'He's going to pull the plug and we're not done yet'.
"But then he paused . . . and we were waiting anxiously . . .
"Then he said, 'But you know what, it's a great record and we'll get there and this is one my most favorite albums I've ever worked on'.
"Which coming from him was like . . . "
With the album almost finished however Capital Theatre felt they couldn't wait for the world to return to some kind of normal so released their first single, Force to Fight with an exceptional video by New Zealand filmmaker Gregor Nicholas.
The song – which confronted the fraying of American society and the tribalism in political life – was an instant success at local rock radio and gained attention in Australia, Britain and the US with New York-based The Syndicate now to be presenting Capital Theatre to US audiences.
The excitement around Capital Theatre is steadily building and the new globally released single People, the second track from the forthcoming album, is an incendiary rock track full of tension, energy and a soaring reach.
"Mike said it was a song we should persevere with, so we redeveloped the whole melody and structure," says Stevenson, "and all that time and effort paid off. It has now emerged as a standout song on the album, and as a strong single."
The band name?
Stevenson: "What it really means is that because we were in business [before the band] we were also involved in capital. We understand the idea of capital and how it functions in society. That is actually playing out a lot more these days if you look at the stock-market and the crazy shit which is going on with the cryptocurrencies and the inflated value of things.
"There is a capital theatre occurring in that financial world, it's the idea that in our day and age we are born into the capitalist society and everything thereafter is like the theatre you entertain on.
"Some of our songwriting delves into that idea that, 'This is your stage and you get one life to live here'.
"In the future we want to be doing shows which are quite theatrical and are more interactive, more than just some guys on stage playing music.
That inspired the way we wanted to write the album in that it follows a hero's journey."
The idea of a concept album as an entity in itself?
Stevenson again: "It gives you the opportunity to write a slow realisation piece like Better Than This.
"We said at the start of the album we wanted something coming right out of the gate at you Boom! The first song is high energy and it's a song about the pain of birth, but we also know you need some reflective moments in this coming-of-age story which gives you the texture of an album. Not every single song has to get to a climactic point because the album as a shape does that. And that was what we wanted to achieve, so writing the album in this way as a concept gave people a listening experience.
"Fire is about temptation and take risks and igniting, that is an innate human quality. While it's a concept album it is actually organising these things that everyone goes through or can identify with in the journey."
Capital Theatre, despite their geographic distance from the rest of the world and the difficult times we are living through, are positioned for a major breakthrough with professional management, important contacts and dynamically produced music which is rock solid, crafted and memorable.
"We're in the fortunate position of being a self-funded band," says Stevenson, "but that can only get you so far. It enables you to make good decisions and do things in a premium way, but the rest has to be about others feeling the music.
"In the end, the music does the talking."
.