Graham Reid | | 2 min read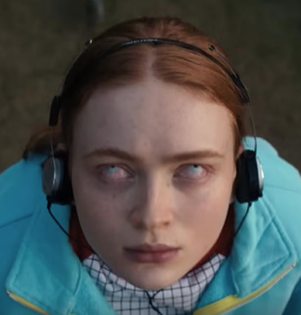 Stranger things have happened on the music charts, but when Kate Bush's Running Up That Hill (A Deal With God) recently appeared in the new season of the Netflix series Stranger Things, the song suddenly topped the charts, 37 years after it first appeared.
The urgently dramatic electro-pop of Running captures the character Max's desperation, her fear and impending death in a psychotic nightmare sequence.
The song, being Max's favourite, saves her when she hears the lyrics: "If I only could, I'd make a deal with God and I'd get him to swap our places. I'd be running up that road, running up that hill with no problems".
Stranger Things' music supervisor Nora Felder – who had protracted negotiations with Bush to use the song – explained the choice of Running: "It immediately struck me with its deep chords of the possible connection to Max's emotional struggles and took on more significance as Bush's song marinated in my conscious awareness."
Running was the hypnotic opener on Bush's Hounds of Love, the album widely considered to be her most crafted expression of love, death, dreams and English Romanticism.
The second side of the album was her complex song-cycle The Ninth Wave – its title taken from Tennyson's poem The Coming of Arthur – and imagines a young woman drowning with Bush exploring death and detachment from the body and life.
"It's a bit like my first novelette," she said. "the idea of taking a piece of music on a journey, which was what opera and classical music used to do all the time."
With Running racking up 200 million Spotify streams it'll be interesting to see if that translates into a new generation exploring the challenging art music-cum progressive pop of Hounds of Love. It seems unlikely.
But what if, for that terrifying scene, Stranger Things had used something screamed by Yoko Ono?
.
Article contunues below the clip
.
.
And speaking of Ono, that's the title of Moana and The Tribe's forthcoming sixth album. So, ono meaning six in te reo Maori, not as in Yoko.
Four previous Ono singles have been released with indigenous guest artists from Australia, Taiwan, Canada and Norway. The latest Maiea – a call for peace – features Megan Henderson from the Scottish band Breabach.
A rare mixing of te reo and Gaelic with music by Paddy Free and Moana Maniapoto, the song involved cross-cultural learning.
"We heard their stories of the Scottish being colonised by the English, struggling to keep their language alive," says Moana Maniapoto, "and that the bagpipes were a form of protest."
That's perhaps a reductive reading of the complex relationship between Highland Scots and Sassenachs, but Maiea delivers a unique marriage of haunting Celtic mysticism, the throbbing pulse of electronica, and gorgeously melodic vocals by Moana and Henderson with a resonant Maori chant.
On the evidence of Maiea and the previous singles, the Ono album – like Bush's Hounds of Love – will be an extraordinary amalgam of past and present, myth and memory.
.