Graham Reid | | 4 min read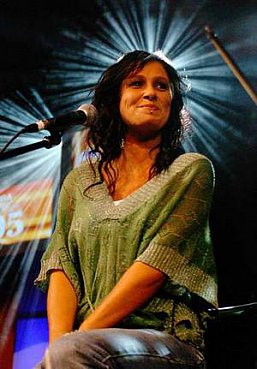 Backstage after a performance for invited guests and a camera crew in a studio room at the Sydney Opera House, Kasey Chambers and her husband Shane Nicholson are greeting fans and well-wishers. Just minutes before they had unplugged after an intimate and affecting set -- with their small band which includes Kasey's father Bill on guitar -- and now they are the centre of a more celebratory attention. Their album Rattlin' Bones had debuted at number one on the Australian charts.
Yet Rattlin' Bones is not bombastic Oz-rock or vacuous pop of the kind you might expect to grab chart attention, it is a mature, sometimes intense, alt.country album which might have arisen from the back roads of Louisiana. Paul Kelly said of it recently, "lonesome and loving haven't sounded this good since Gram and Emmylou".
Rattlin' Bones sits easily alongside classic albums by Gram Parsons and Emmylou Harris, early Lucinda Williams and Gillian Welch -- yet it is also very much a product of Chambers and Nicholson's separate backgrounds.
Chambers grew up in a family which literally sat around a campfire (on the Nullabor Plain) and sang: her father Bill is one of Australia's most respected country singers, and her brother Nash is a producer who has done Kasey and Shane solo albums and Rattlin' Bones. She later played in their popular family group The Dead Ringer Band (which also included her mother Diane), scored three chart-topping solo albums in Australia (Barricades and Brickwalls in 2001 selling half a million) and has regularly scooped Australian album and song writing awards.
Nicholson's musical schooling in Brisbane was Bob Dylan, the Beatles, the Clash and Neil Young; in school he formed Pretty Violent Stain which released one acclaimed album (Parachutes and Gravity, 2000), then embarked on a solo career playing across Australia, Europe and the States. USA Today hailed his album It's A Movie as one of the top albums of the 2003.
His path crossed hers when he hooked up with her family's covers band the Lost Dogs a few years back, a casual affiliation of musicians which played pubs around Queensland. Remarkably they hadn't written together until Rattlin' Bones, yet their voices possess a rare harmony. Given the extraordinary result -- instant alt.country classics like the chunky title track, the Gram/Emmylou-like Sweetest Waste of Time, the aching House That Never Was -- you have to ask: what took you so long?
"When we met," says Nicholson, "I was making my first solo record with Nash producing. Once we became a couple a few years after that we were still working on records of our own and touring separately. So we were working on different projects. This record would probably still not be made if we hadn't taken a break . . ."
"And had a baby," laughs Chambers, now mother to six-year old Talon from a previous marriage and 13-month old Arlo with Nicholson.
And both credit the relaxing time in Lost Dogs playing covers and country favourites as the genesis of them coming together as singers and songwriters. It allowed them to learn again how to sing harmony and be back-up singers, something which had been sidelined because of their solo careers.
"So it was really fun to do that every night," says Chambers, "and just be part of a band. And we wanted this record to be like that, a band with two singers."
Chambers says aside from playing and listening to the classic Gram/Emmylou music they also looked to the Louvin Brothers, country singing brothers from the 40s, who influenced not only their harmonies but the conception of the album.
"They are the classic example where neither could have made any of those albums without the other. It was about those two voices and how they complimented each other, and we wanted that. I didn't want it to be a Kasey Chambers album with special guest Shane Nicholson, or vice verse. We wanted it to be about this little band we had created."
With a number of co-written songs between their solo-penned originals, and with their tight touring band, Rattlin' Bones offers an astute balance of voices and styles, and it is all over in a vinyl-sized 42 minutes.
"CDs have ruined albums and the whole art form," says the droll Nicholson who has come into the tight Chambers' family circle. That has required some small but happy adjustments.
"In the last eight years I pretty much travelled on my own to Europe and America and I was used to that, the troubadour with a backpack. The Chambers family do it very differently, like a travelling circus, which is great. I had always divided my life into two: music and work together, and family was a separate thing. The Chambers family at home is also the one that plays music, it is one and the same and you don't need to divide your life. For me that has been quite a revelation."
Not that they sit around the dinner table and talk about promotion and publicity, laughs Chambers. But the homespun nature of their lives -- short tours with Arlo and the band, then back home to Copacabana up the Queensland coast -- also influenced how the album was recorded.
"We'd both come off the back of records," says Chambers, "which were the most polished and perhaps even over-produced that either of us had ever made. We wanted to go back to the roots of not just country music but also of making a record. We didn't want to spend six months in the studio overdubbing and fixing it up. We wanted it to sound authentic so we did it in an authentic way."
And because of their tour-hardened careers they can simply sit and play these songs without fuss. At the Sydney Opera House showcase there were no second takes, nothing done again for the camera. Just two singer-songwriters and their tight little band making music straight from the heart. It was an exceptional performance (which will be on DVD by the end of the year) and they made it seem effortless. And although some of their songs are dark and gripping, there was liberating sense of enjoyment too.
Asked by an audience member about their Gram/Emmylou connection Nicholson fired back "more like Abbott and Costello". They all laughed then turned their attention to one of Chambers' dark but redemptive song with Bill on sublime slide guitar.
The title said it all: Your Day Will Come.
Footnote: On Wikipedia Kasey Chambers' occupations are listed as "singer-songwriter, musician, lesbian". Told of this she laughs and says, "What do you think of that Shane?" Dry as dust her husband replies, "I think you should quit that job".
The lesbian reference was subsequently removed.
This is an expanded version of the article which appeared in the New Zealand Herald in late July 2008.