Graham Reid | | 6 min read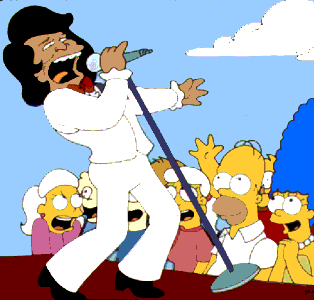 "The artistry of James Brown is epitomised by the guttural grunt (uh,uh) or the equally familiar cry of 'oo-wee' that punctuates practically ever young he has recorded. In those simple primal utterances Brown comes nearer his poetic goal than in any of his more elaborate lyrics. For there, he is not singing about black life – he is black life."
- Mel Watkins, 1971.
"ooooOOOOAAAArghhhhhhhh, I'm back, huh-uggh."
- James, Brown, 1976
The half-hour pursuit across the Georgia country line at speeds of over 130 km/h must have been something to see. At one point over a dozen patrol cars were chasing the driver of the red and white pick-up.
The incident apparently began when the crazy at the wheel interrupted a business seminar at a hotel outside Augusta and started waving a gun. It ended only when his ute was cornered in a parking lot and its tyres were shot out.
The black driver was already known to police. Six months before he'd been charged with intent to murder and aggravated assault. This time he tested positive for PCP, one of those mind-mashing chemicals which street cops know only too well.
Another wired-up black kid gone speedo on the junk? Well, not quite. The man at the wheel of that ute back in September '88 was 55 years old.
Ladies and gentlemen, meet the Godfather of Soul...Mr James Brown.
For over 35 years – since the release of his classic soul single Please Please Please back in March 1956 – James Brown has confused and confounded, educated and entertained. He billed himself "Mr Dynamite" before he'd even made a record, named his band The Famous Flames ("Y'all are the onliest people who ever made yourself famous before you were famous," said Little Richard) and by working more than 300 nights a year earned the title "The Hardest Working Man in Show Business" – which he had also given himself.
For most, however, he is simply James Brown, Soul Brother No 1 and the undisputed Godfather of Soul.
Brown is one of those great artists whose life and music are a mass of seeming contradictions.
When the ghettos were going up in flames in late '68, Brown's Say It Loud – I'm Black and Proud was the soundtrack with the sirens and shouting. A few months before, he'd been having dinner in the White House with Lyndon Johnson by way of Presidential thanks for televising a concert to cool tensions the day after Martin Luther King was gunned down.
He performed for troops in Vietnam and is an outspoken defender of the American way. He campaigned for Hubert Humphrey and endorsed Richard Nixon. But always, as the song said, he was black and proud.
"The police usually called black people 'niggers' but not at our house," he wrote in his autobiography. "That's where I learned the police are not brave, they just have a job to do. There's a whole lot of people badder than the police, and a lot of 'em were people in my family."
Among the many jobs the police had to do was pick up 15-year old James Brown and see him sentenced for eight to 16 years for breaking into cars.
Released at 19, he drifted in and out of jobs, linked up with Bobby Byrd's gospel group and started singing. The first song he wrote was Please, Please Please ("a milestone in the history of secularising the gospel spirit," according to Tony Cummings, founder of Soul magazine).
Amid the messy career and personal contradictions of Brown the man (a meticulous businessman who ended up owing $US4 million in the late 70s vehemently anti-drug but spaced out on a speedball of PCP and crack by the end of the 80s) it is sometimes too easy to ignore the music. But, like Miles Davis in jazz, Brown has redirected soul music on a number of occasions and fashioned funk.
Now back on the block and with a new album, Love Overdue, released a few months ago, Brown is again headlines.
"The great god Brown is back," trumpeted the New York Daily News, and Brown himself noted: "I haven't lost a step. In fact, I might have picked up a few new ones."
Not that he needed to, as Star Time, a four-CD, 71-song collection (with accompanying booklet of essays and recording information) proves.
From Please Please Please to Unity Part 1, a street-rap throwdown between Brown and Afrika Bambaata in '84, the chronological collection reminds again how crucial Brown has been.
In the past, such reissue box sets have often seemed rescue missions for artists stranded in the present and released on significant anniversaries. (The Crossroads collection of Eric Clapton's impressive back catalogue, for example.)
The recent Bootleg Series of unreleased Bob Dylan material, excellent though it was, seemed almost desperately – and unnecessarily – seeking the anniversary event. Twenty years with CBS? His 50th birthday? The Grammy Lifetime Achievement award?
Star Time certainly celebrates 35 years of music (who else in popular music can claim that?) but Brown still commands such attention he doesn't need the promotional heart-massage.
Consider this: when Brown was released from jail last year the biggest rap star in the world, MC Hammer, lined up to play a support slot.
And consider this: "Brown's lyrics are secondary to his sound and their force as words with literal (or literary) meaning is negligible when compared to their more evocative, allusive, poetic qualities and their power as immediate sounds."
That was Vince Aletti reviewing Brown's Hot Pants album in Rolling Song in '71. He meant Brown screams and yelps really great.
And a little over a decade later, the "Hardest Working Man in Show Business" was the most sampled man in show business.
His grunts, yelps, groans, drum sounds, horns or whatever were sampled and scattered across the globe on a hundred house-rap and dance records.
What Star Time allows with its 20/20 hindsight is not simply a panorama of The Man's ability but also a fine focus on the big picture.
Consider: within days of recording the relentless organ-driven Afrogroove of There It Is in February '72 he was using the studio as a pulpit for his street-conscious anti-heroin message of Public Enemy No 1. By May he was in a studio in North Carolina recording the classic dance hit Get On the Good Foot.
Most artists would have settled for any one of those in a lifetime. Brown cut them all in a 12-week period.
Of course, he always had good musicians and over the years, despite the awesome expense and responsibility, kept some very big bands on the road.
The way he did it was through discipline off stage (fines for tardiness or an unpolished shoe) and on.
"The first rule when you went to work for James Brown: watch James Brown," said trombonist and band director Fred Wesley, who was on hand for such powerful soul classics as the '69 single I Don't Want Nobody to Give Me Nothing (Open Up the Door, I'll Get It Myself).
From out of Brown's ranks emerged Bootsy Collins (whose first recordings with Brown included Sex Machine, Super Bad and Get Up, Get Into It and Get Involved, which re-routed soul funk in the early 70s).
Young jazz saxophonists today such as Greg Osby and Kenny Garrett of Miles Davis' band talk of Brown's longtime tenor player Maceo Parker in the same sentence as Charlie Parker.
Listen to Brown's soul ballad Try Me from 1958 with harmony vocals from the Famous Flames and you can hear how the song drifted down to Jamaica and, through tropical winds and collie weed culture became Bob Marley's Try Me a decade later.
There's probably a doctorate thesis to be done on the diaspora of James Brown music. In Kingston, Jamaica, Toots and the Maytals acknowledge the debt and in Nigeria, Fela Anikulapo Kuti runs a James Brown-style band – and has ever since he discovered the music back in the late 60s.
Brown has had 40 million-selling records, but had to finance his Live at the Apollo 1962 out of his own pocket where his record company didn't believe there was a market for a live album. (It went to No 2 and spent 68 weeks on the charts). He fought his way back through disco and bankruptcy.
But as Star Time proves, there was always the music moments of dignified beauty like Lost Someone from '61 where he creates an aching soul classic as he turns the standard chord changes and simple lyrics into a heart-breaking cry of love which pivots the song around a raw confessional, "I'm so weak...I'm so weak..."
Or political lyrics strapped to killer dance beats like Don't Be A Drop Out, ("without an education your mind is dead") from '66 and pure raucous energy like the throat-searing My Thang from '73.
When Live at the Apollo was issued yet again on CD in 1990, critic Gene Santoro simply gave up trying to talk about the music: "Without JB's brilliant insight into how to foreground rhythms, music from funk to reggae to rap to Afropop would be totally different, if it existed at all."
And while some artists such as Madonna and David Bowie (whose Fame owes a huge debt to Brown's Hot) have reinvented themselves in the images and iconography of others, Brown has always been reborn as another variant of himself.
Always the Godfather. And always James Brown.
This article first appeared in the New Zealand Herald in 1992 but is unavailable on the website www.nzherald.co.nzb