Graham Reid | | 2 min read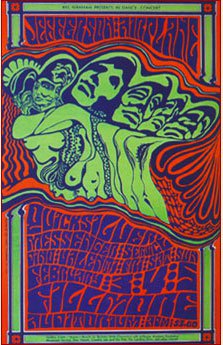 History's such fun. Here are some lyrics from the past to think on: "We are all outlaws in the eyes of America/in order to survive we steal, cheat, lie and [inaudible]/ we are obscene, lawless, hideous, dangerous, dirty, violent and young . . . we are forces of chaos and anarchy."
The singers then toss in the Price noun, and it isn't calling someone a "sexy [motherword]." It's "up against the wall, [that motherword]"
Yeah . . . anarchy and violence, the good old days of punk in the late 70s. Dontcha love it?
But wait.
These lyrics come from We Should Be Together by Jefferson Airplane a decade before I'm So Bored with the USA and Anarchy in the UK.
This from band of hippies?
Before they changed line-ups, lost their magical, crucial guitar/bass team of Jorma Kaukonen and Jack Casady and mutated into Jefferson Starship (turning out mindless nonsense like We Built this City on Rock 'n' Roll for corporate radio jocks), the revolutionary old Airplane from sweet-smelling San Fran were taking a very interesting trip indeed. Richard Nixon had that effect on America.
Sure, the writing of Marty Balin and Grace Slick occasionally took a curious turn like wasting a tune as gorgeous as Pretty As You Feel on some pap about wearing makeup -- but mostly the Airplane evolved a whole new consciousness. Tune in, turn on and drop out is still pretty subversive when you think about it.
Except if you are involuntarily unemployed.
That makes the Jefferson Airplane three-disc retrospective Loves You even more necessary. It's hard to believe that this band – once spoken of in the same breath as the Beatles, Stones, Zappa and others (hitting the cover of Life in June '68) – should be so little heard these days. Or worse, associated with notions of limp hippie culture.
Before and through all that, Jefferson Airplane were a rock band. And a pretty mighty one that that.
Loves You, with 51 tracks – an astonishing 22 of them previously unreleased (live or alternative takes) and including seven previously unheard songs – is evidence of a band that grew from odd pop, folk and blues roots into one of the most melodically cartwheeling and (often) lyrically literate bands of their era.
Kaukonen – classically trained, briefly sideman with Janis Joplin and a folk-blues player who assimilated Indian and jazz phrasing by instinct – still provides a worthy blueprint for any aspiring psychedelic guitarist.
Here the live, eight-minute version of Other Side of This Life and seven-minute Won't You Try/Saturday Afternoon recorded at the Fillmore in mid-67 catch him in full flight pouring out Coltrane-inspired melodies while bassist Casady pumps behind him.
The Airplane may have mastered the three-minute psychedelic single early on – White Rabbit, Somebody to Love – but when they stretch out, as on the 11-minute Ballad of You and Me and Pooneil or Hey, Frederick, they could be astonishing.
Slick's tough, unswerving voice and the counter vocals from either Balin or Paul Kantner are among the most distinctive in rock.
Loves You (which comes in appropriate period psychedelic box, with an excellent essay and lots of dayglo pix and op art) documents the career of a band from a Marty Balin single in '62 through to an unreleased You Wear Your Dresses Too Tight at the Winterland a decade later with Papa John Creach on violin.
The opener – Balin's Dion-styled I Specialise in Love, a piece of pop which features Glen Campbell and Barney Kessel on guitars, jazz vibes player Milt Jackson and a string section – gives no hint of the spiralling music that was to follow when Slick replaced Signe Anderson (three Anderson tracks here) and the politics of psychedelia took over.
So, tasty stuff here?
The transition from almost Monkees pop on Bringing Me Down in '66 to Joplin-blues the same year (with Anderson) and into the nascent anthem Let's Get Together. There's the dreamy, textured (previously unreleased) Things Are Better in the East and Good Shepherd alongside the more urgent economy of It's No Secret, When the Earth Moves Again and a primitive, live Plastic Fantastic Lover.
Here, too, are odd songs that could have come from no other band: the acoustic clop of Martha the unnerving psycho story Lather, and the "got to revolution" stridency of Volunteers.
When the Airplane took flight, it covered a lot of territory in six dramatic years.