Graham Reid | | 2 min read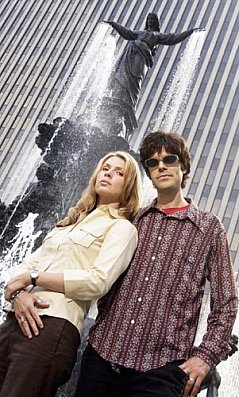 Karin Berquist and Linford Detweiler get the treatment usually reserved for big stars. A year ago few people here were aware of Over the Rhine, the Cincinnati band formed around the song-writing core of Karin Berquist and Linford Detweiler, whose seductive blend of alt.country and American folk had quietly been captivating an American audience.
Yet here they are now, receiving the kind of profile usually reserved for Real Big Names. They've been interviewed by Kim Hill, student radio, and the Listener; last night they performed for music industry insiders and a few loyal fans; today they play in-store at Real Groovy; on Tuesday they appear at the Bay of Islands Arts Festival in Kerikeri; and on Thursday they start a five-date stand at the International Festival of the Arts in Wellington.
This despite few album reviews - the Herald gave both their Ohio of 2003 and last year's Drunkard's Prayer albums four stars - and the married couple's self-effacing demeanour.
Fifteen years after they formed, Over the Rhine is still the little band taking off slowly.
"We're good at that," laughs Berquist.
In the US their fourth album Good Dog Bad Dog of 96 really kicked off their career, ironically an album they thought would be their swan song, according to Berquist.
"But it was as if that record said, 'You're not' and things happened without our hand in it."
Their fans began to include singer-songwriters like Sarah McLachlan and Amy Rigby, and the Cowboy Junkies (with whom they played as band members at the ill-fated 99 Sweetwaters Festival). They scored dates opening for Bob Dylan although never actually got to meet him.
"No one does," says Detweiler. "There are guys who've been in his band eight years and have never spoken to him. Performers can become very insulated and for me it's important to find ways to be out where life is being lived. But it's not easy when you are going from town to town."
They hit the touring circuit in the US and Europe and it paid off. To their happy bewilderment their Films For Radio (2001) sold more in Paris than it did in Ohio. Berquist says people there said they didn't seem American, that we were way more introspective.
But touring took its toll so a year ago they moved to a farmhouse in the country near Cincinnati which Berquist named Nowhere Farm.
"Nowhere, or Now Here," laughs Detweiler. "Touring is a communal experience and we love it, but songwriting is extremely solitary so to have the solitude is a good balance."
In this country their breakthrough has been with last year's Drunkards Prayer, an emotionally dense album they recorded in their lounge, its introspection resonating with an audience prepared to read between the lines.
"The songs were written out of a personal and intense situation," says Berquist. "We knew if we started it at home where the issues originated that would feel more appropriate."
Detweiler: "The songs were close to the bone so it worked out to record them in the rooms we walked around in. A footnote is that all our gear was stolen too. My Hammond organ was missing in action and our electric guitars were gone. So there were a few things converging."
As a child of separated parents Berquist knew intuitively music would be her life. The gospel she heard in church and her grandfather's love of old-time country songs allowed her to appreciate music's healing and cathartic quality.
For Detweiler music was a place where he could make sense of things he didn't have the words for.
"One of the reasons I wanted to be a songwriter was because I felt what songs could do for me, and I wanted to see if I could give that back."
He says if we consider our childhood it may provide an inkling to our direction in life. "My first memory was the sound of a trumpet at a tent-show revival meeting, and I knew I needed to be up there where that was coming from. And I can remember the first time I heard a piano being played.
"If people can tune in to some of those earliest impressions, there might be some clues to where your life could lead."