Graham Reid | | 5 min read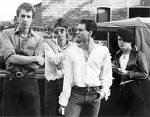 You need a little patience when trying to get a handle on the career of the four-piece British art-punk band Wire, who emerged in the late 70s at the start of punk.
But first let's establish that Wire were Colin Newman, Bruce Gilbert, Graham Lewis and Robert Gotobed. The early-90s line-up, wittily named Wir, was the same guys, but without drummer Gotobed.
That's reasonably simple - except to say that modern day Wire, which reformed three years ago for two mini-albums Read and Burn:01 and 02 - sound nothing like the seminal band which changed the gyroscope of rock and pop for many with three extraordinary albums.
Wire's exceptional, arresting debut album, Pink Flag of '77 was 21 brief bursts of punk-cum-art noise in a mere 35 minutes. Listened to now, the songs, despite their brevity, don't sound too different from what was going on in punk: stabbing riffery and mock-Cockney vocals were pretty commonplace.
The hints of their art school background and pretensions came only on close analysis: vaguely absurd song titles (Ex Lion Tamer, Surgeon's Girl, 12XU). They were also on the Harvest label which had several oddball characters, such as Syd Barrett, and whimsical psychedelic bands.
Their second album, Chairs Missing, clarified matters: deadpan humour, a slightly gloomy feel that anticipated goth-pop, textural songs like Marooned which hinted at the warm but glassy spaciousness of Brian Eno, and short 'n' sharp songs like Outdoor Miner - and the nagging I am the Fly ("in the ointment") their almost-hit.
With the sombre 154 in '79 they pulled off a remarkable trifecta of albums in which some have heard the template for noise-merchants like Bailterspace in one direction and moody buggers like Joy Division in the other. Wire were arty with being pretentious, and alarmingly prolific.
They were so influential they were also ripped off - or borrowed from if you are polite. Even into the late 90s when Elastica settled out of court for similarities between their Connection and Wire's Three Girl Rhumba.
Menswear's single Daydreamer was so like Wire that one reviewer observed, "it is almost impossible to hear without bursting into laughter".
Wire have been hard to pin down since their first big splash. In late '79 they toured with Roxy Music and saw what they didn't want to become. The following year the Wire project was on hold.
There were solo albums from various members, a mid-80s reformation which produced the EP Snakedrill and a few albums (most notable A Bell is a Cup Until It Is Struck). They performed a little and in '90 dropped the Manscape album.
The Wir reformation (with a drum machine) followed, then more solo projects and hibernation, then the mini-albums and in April 03 they performed Pink Flag in its entirety with theatrical design by the artists Jake and Dinos Chapman at the Barbican.
Always arty, they are now part of the alt.art establishment.
But just because all four were together again didn't mean they sounded like they did in the late 70s, or that they would necessarily play that older material live. The Read and Burn EPs announced Wire Mark III as musically dense and industrial-strength.
"Wire, live," says chatty mainman Newman. "is and always has been a machine. You switch it on and it either goes really fast or doesn't go at all.
"When it goes it's a very exciting noise. It can operate off minimal direction and the structure of the new material is pretty simple, the energy goes into putting it across.
"In a way what makes the records isn't actually Wire, it's a different thing. But that's a subtle point lost on most people. But when you get to see it live it's very powerful, it's not the same as the records because you can't have it that loud in your house for a start.
"It can be thrilling, especially if you've got a few beers in you and you're a bit, 'Whoo-hay!' But Wire find it hard to perceive themselves as entertainers on any level. It's some kind of performance art but that doesn't mean you can't enjoy it."
Newman says Wire today what Wire do these days for albums is essentially Gilbert and himself in the studio as benign dictators, but it isn't an easy thing to get up and running. They all have their own projects. Lewis lives in Sweden and they don't have the money to fly him over for regular rehearsals or mixing, so tours are well thought-out. But they are also reasonably frequent, and in some ways Wire are bigger today than ever.
"One of the things we're doing in this incarnation is going places we've never been. Last year we played in Spain three times, we'd never played there once before, and played more gigs in Italy than we'd played in our entire career. It's much more interesting than doing a boring normal rock tour, which we just don't do anymore."
He also notes that college radio in the States has picked up on their new stuff, so their audience skews to both ends of their career. But their agenda isn't especially rockist.
"At some audiences in America we have kids in the front going ape and then the guys with the beards at the back stroking their chins going, 'What exactly does this mean?'
"Some people in their late 40s will be well familiar with the new material - but I don't want to sell it under false pretences, and I don't want to undersell it.
"Wire don't want to destroy your memories. We want people to walk out of the thing going, 'I don't think I'll be able to hear for a week. I never knew old men could make so much noise'.
"This version of Wire is constructed in a very different way to any other version. There are some rules we are following. First is self-actualisation: self-production, self-release and just working at this as a business - but a business doing the art we chose to do.
"And secondly to make overt connections with fine art, which have always been there. Last year we did the Barbican thing and we're right now in discussion with another Brit artist.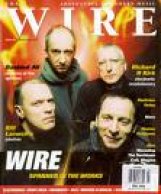 "One of the great things that happened last year was we went to America and made both Entertainment Weekly and Art Forum. That's pleasing because the band is not overly interested in being in Entertainment Weekly.
"If your mum had looked at it, we were the only people she wouldn't have heard of. All the others were famous and we're old blokes who do this duffed-up rock music. The others were Michael Jackson and people really well-known and on the telly.
"But being famous on that level doesn't really achieve anything. The objective is to be respected artistically and work where you are open to other possibilities, like museums and galleries. Different kinds of collaborations become available and the work becomes more interesting.
"You don't have to think about making albums and touring to promote them. We have to do a bit of that, but not much. We could do some rock shows in New Zealand, but maybe in two years an art institution might be more interested in us collaborating with people and we'd be invited to stay a week. Can you imagine the band turning that down?"
He talks of Wire interfacing with various aspects of culture and notes that today bands are calling themselves "art-punk", a label they always got pinned with.
"If you go back 10 years 'art-punk' meant ... well, basically shit really. It was not a positive attribute. In other words, 'You're not going to like this group. Not only is it loud but you also won't get it'.
"But now bands are describing themselves as that, and that's a big change. It's exciting."
On the other side are all the boring details of mixing, choosing the colour of album covers and so on. Newman tends to do much of this important but time-consuming stuff. He also has another band with his wife, Malka, and Robin Rimbaud (aka Scanner), and his own label, Swim.
And while he is passionate about Wire and the various art-related directions it can encompass he is also amusingly dismissive while offering a consumer warning.
"It's just some blokes making a noise. The experience of seeing Wire in a club is a strong experience, it doesn't need to be mediated or have a video projection because the band's dead boring and it's all a bit tepid.
"That's not Wire. It's very bold. And very loud."