Graham Reid | | 6 min read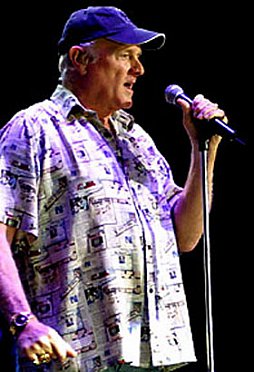 It is a rare individual who can claim that the Beatles sang "happy birthday" to him. But then Mike Love -- the Beach Boy who keeps their early surf songs alive today -- is a rare man indeed.
Now 66, Love can reflect on a life in popular music that began with 60s pop capturing the breezy vibe of southern California, but which became somewhat darker as the decade rolled on.
In 1961 Love co-founded the Beach Boys with his cousins, the Wilson brothers (Brian, Carl and Dennis), and a school friend Al Jardine. Initially their songs reflected their youthful concerns. Those songs have endured down the decades, and these days a version of the Beach Boys fronted by Love still plays over 150 shows a year.
"We realised back then that not everybody had an ocean," he says, "so we did songs about cars which we lusted after or fantasised about -- and these days, between Formula One and Nascar, the fascination with cars is bigger than ever.
"Surfing of course is multinational. So we touched upon subjects that young people identify with today, and as you grow older you identify with them nostalgically."
The enduring appeal of Beach Boys songs such as Fun Fun Fun, Surfing USA, I Get Around and Little Deuce Coupe has been reinforced by their use in contemporary movies: recently Do It Again was featured in a dance sequence for Happy Feet, and Don't Worry Babyappeared in the last year's Denzel Washington thriller Deja Vu.
Love says the appeal of Beach Boys songs lies in their lyrical innocence and the group's distinctive harmonies.
Things were not harmonious within the band however and the Beach Boys story is less fun in the sun than one of drugs, therapy, in-fighting and lawyers.
In their earliest days Love -- who took lead vocals -- co-wrote with Brian Wilson but over time Wilson's gifts came to the fore in more ambitious songs such as Good Vibrations, and for the '66 album Pet Sounds, widely considered one of the defining albums of the period.
However Wilson -- insecure and emotionally abused by his father Murry -- retreated into a cloud of marijuana which only increased his fragile emotional state. Within a few years of quitting the touring band to concentrate of crafting exquisite pop in the studio, Wilson was an obese recluse and the remaining Beach Boys continued playing without him.
Love was the member who most resisted Wilson's conceptual music, preferring to remain with their escapist pop of the early 60s. For that he has been cast as the villain in their story.
"Demonised is the word," he says, and admits that his litigation against Wilson in the late 90s for songwriting credit on their early work damaged him in the eyes of outsiders.
"My uncle Murry deleted my name from the credits on California Girls, Help Me Rhonda, Surfing USA and I Get Around. Yet I did the majority of the words on all of those, and more. Eventually I had to go to court, and I did prevail and got credit on several of those songs.
"It is unfortunate I had to take the legal route but that's as a result of some of the people around Brian trying to craft a reality as they wish to design it. But it is not the reality.
"The reality is that Brian and I co-wrote some great songs. Brian wanted to resolve it but couldn't because he was in this conservatorship which means he was not capable of making business decisions relating to his life."
Love, by then fronting a new line-up of the Beach Boys, picked up $US13 million and had his name restored to the credits leading to a handsome annual income from royalties. Shortly after he sued former bandmate Jardine for using the name Al Jardine Beach Boys and Friends for his own touring outfit.
It was messy, and two years ago Love's lawyers were in court again, this time suing Wilson over misuse of Love's image in promotional material when Wilson released his album Smile, the one he abandoned in the late 60s when he had an emotional breakdown.
Yet for all the rancour Love says he and Wilson see each other occasionally, most recently last year when Capitol Records issued a 40th anniversary edition of Pet Sounds.
"We got together at the Capitol Tower in Hollywood and they were playing the album. I said, 'Brian, can you sing like that now?' and he said, 'Oh no'. I said, 'That's too bad because I sing just like I did then'. But it is too bad, he's been through a lot.
"Brian and I have a chemistry and although there are issues that from time to time need to be resolved, basically I believe his innate abilities and mine compliment each other. Were we to get together to write or perform there would be no problem.
"It hasn't happened because he's doing his solo thing and I've carried on with the Beach Boys, with Bruce Johnson who was his replacement in 1965. So the paths haven't crossed.
"But at Capitol he said a number of times we should get together and write, then again later when we were at his house discussing the contents of the new compilation Warmth of the Sun."
In his private life Love seems the antithesis of the ruthlessly litigious figure he is usually cast as: he is active in environmental and humanitarian causes, donated $US100,000 to the Red Cross after Hurricane Katrina, and the Beach Boys frequently do charity shows.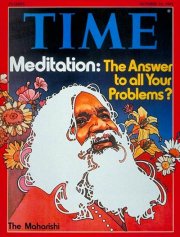 He also still practices meditation which he learned from the Maharishi Mahesh Yoga at Rishikesh, India in 1968. Also there were the Beatles and when Love's birthday rolled around they broke into song.
"And I suggested to Paul McCartney he put in all the girls around Russia [on the Beatles song Back in The USSR] which is the Ukraine girls, Moscow girls and 'Georgia is on my mind'. And he did."
So is he thinking of suing Sir Paul for co-writing credit?
Love lets go a low laugh: "I think he'd admit I suggested that -- although he seems quite capable of crafting a tune himself."
A shorter version of the Brian Wilson interview appeared in the New Zealand Herald in December 2004: the Mike Love interview was in the Herald on Sunday in November 2007. www.nzherald.co.nz
In November 2007 the Beach Boys fronted by Mike Love played a concert in Auckland. This is the review I wrote for the New Zealand Herald. It is fair to say it was not received well by many who were there.
Who: The Beach Boys, Christopher Cross
When Beach Boys frontman Mike Love asked if they should sing some things off Pet Sounds, the groups most innovative album from 1966, and was met with barely a murmur of approval from the large audience you had confirmed that this crowd was there for the innocent escapist California pop of the early 60s.
And in that Love -- the sole founding member -- and these Beach Boys obliged. This was a night of surf songs, car songs and dance songs (Do You Wanna Dance and Dance, Dance Dance), covers like Why Do Fools Fall in Love and California Dreamin', and plenty of Beach Boys classics including California Girls, Little Honda, Do It Again, I Get Around . . .
However with so many of the vocal parts being taken by the much younger band (although longtime member Bruce Johnston on keyboards did his share at times) it raised questions about these "Beach Boys".
Love -- at 66 looking very stiff and reduced to flickering hand gestures -- took his part more than adequately in some places. But when the drummer, bassist or the guitarists sing lead vocals and most of those harmony parts are we seeing the Beach Boys, or a Beach Boys covers band which just happens to includes a couple of longtime members playing much diminished roles?
When opening act Christopher Cross -- whose pleasantly unmemorable and homogeneous music was why radio stations with names like Cool FM seem to have been invented -- joins them to play/sing the part of the late BB Carl Wilson is that still the Beach Boys?
But people stood up and danced sometimes, clapped, sang along to the old hits, waved their cellphones during Surfer Girl, and I have no doubt went home very happy. And to be fair these Beach Boys did also sing nice versions of In My Room, Warmth of the Sun, and God Only Knows. It's always good to hear those ones.
So sometimes, to flip that old Rolling Stones title, maybe it is the song -- not the singer?