Graham Reid | | 5 min read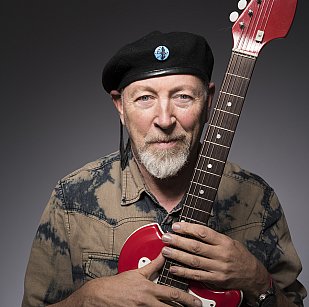 About the time Bob Mould, formerly of Husker Du, was telling NME he'd seen Richard Thompson performing and felt so scared he should quit, Thompson himself was once again carting his band through tiny venues in the stages and Canada.
This was the man Mat Snow in Q magazine said had "spent 20 eventful years lapping up critical acclaim while neatly sidestepping commercial success." And despite yet another cracking album, the recent Rumor and Sigh, Thompson looks as if he's done it again.
Once again the praise has poured in ... and once again the sales are typically modest. Not that Thompson doesn't want for chart success.
"Oh, I wouldn't want to go any higher than number two, though -- then at least you've still got something to aim for," says this veteran of the British rock scene. "Being number one would bring problems ... nice problems. It would be nice to sell more records to enable us to tour more comfortably and pay the band good wages. But that's life."
Thompson's weary acceptance of his role as critics favourite is tempered, however. "It's nice to be noticed but people like Elvis Costello and me are trapped in the intellectual response from critics that doesn't help you sell records. But that's okay ... it's just nice that someone likes you."
In the present musical climate buried in ironies it is significant that Thompson mentions Costello, whose Mightily Like a Rose album has been criticised for being too long and too difficult in giving up its particular genius. Some critics have noted that there is too much else to listen to.
The quantity over quality ethic has invaded and Thompson is aware of, and affected by it.
"It's ironic that as albums like Elvis' and mine get longer people seem to have less time or inclination to listen," says Thompson whose Rumor and Sigh has sold fewer than 70,000 copies in the States and will perhaps do something like a tenth of Costello's sales in this country.
For a man with such a richly textured, much acclaimed career that could be better indeed, but Thompson has seen it all before from the time he emerged as the founding figure of England's seminal folk-rock band Fairport Convention in the early 60s, through a solo career which began with Henry The Human Fly in '72 ("according to Warner Brothers, who released it in America, it was their smallest selling record ever!") and into an astonishing series of albums, first with his wife Linda which documented their marriage and separation, and then under his own name.
More recently, Thompson has recorded with Crowded House, the Golden Palominos, David Thomas of Pere Ubu (one of the few who bought Henry the Human Fly, apparently) and held a level flight path on a solo career. Occasionally, as he did in the early '70s when he converted to Islam, he has taken time out to reflect.
"These days I find it harder to stop, although I am happy not to pick up a guitar for a week" says the man whose playing has had writers reaching for their superlatives. "I don't feel I have to be so technically accomplished I have to practise for four hours a day, so it's nice to step outside and see just what I am doing.
"I'm not sure I know what that is, however, I'm carrying on – but I try to think of music in a fresh sense and see each record and song as an experiment rather than a commercially gratifying commodity."
And that is why Thompson's career is also littered with unusual, challenging albums like those he has done with experimental avant-outsiders Henry Kaiser, Fred Frith and John French.
The Frith/Kaiser/French albums – and those with Anton Fier's Golden Palominos with whom he, like Mould, has recently recorded – appeal to his sense of experiment. With deliberately little rehearsal on the difficult arrangements, they require intense concentration and flirt with disaster. It gives them an edge, Thompson says.
And working with Crowded House and Del Fuegos producer Mitchell Froom gives him the freedom in the older direction – he can simply get on and play.
"Mitch is great. He knows quality at the time it goes down as opposed to the next day and he's a good arranger who understands the technical end.
"He's also diplomatic, sympathetic, modest and very cynical about the music business, which is a very important and healthy attitude."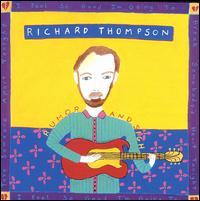 For anyone listening to Thompson speak, it may sound as if he crafts impossibly difficult albums, yet while Rumor and Sigh (like all his albums) has some shadows in its corners, it is also shot through with a rich, self deprecating humour – no more so than in Don't Sit On My Jimmy Shands, a jokey throwaway about his collection of 78s.
"That's a kind of Scottish version of Don't Step On My Blue Suede Shoes. I have special love-hate relationship with Scottish music of that corny kind. I grew up with it and it's ingrained in my soul and that song is my attempt to purse it out."
And purging has been a constant thread in Thompson's music. Sparked with wry assessments of his life, it has documented relationships, lust and sex. And on Rumor and Sign he reaches back to a childhood memory of a local psychiatric institution for Grey Walls.
"There's a great tradition of songs about mental illness like Willie Dixon's Insane Asylum, which I liked very much and have always watned to do another version of. It's a difficult thing to write about and I lived close to a mental institution when I was a child. It used to give me the creeps – a big grey building and people at the windows looking desperate – so it had to come out in a song sometime.
"But most of my stuff is fictional, although I'm not above looking through newspapers for ideas. The muse fails me all the time but that' doesn't worry me.
"I try not to hang around waiting for the bolt of lightning to strike and work office hours on the song writing. Now 1952 Vincent Black lightning on the album is about the real stuff – fast motorbikes, a woman with red hair in black leather and living fast. That's what's important."
Thompson's almost careless dismissal of his song writing skills belies the craftsman at work and a song like God Loves a Drunk with its Pogueish swagger and "Rabelaisian morality" allows him to cheer on the team and keep his sense of spirituality intact.
"I've always preferred drunks to your Jehovah's Witness clean-cut and sober Christian approach to spirituality. A drunk is more free and closer to God than some Jimmy Swaggart who wants to hang on to power and wealth. The most spiritual people I've met are wild and outrageous and don't care about possessions."
And that philosophy is Thompson's too. He may not sell as many records as he or his record company might want, but clinging to some materialistic perspective is not what counts anyway.
"These days I only work with people I like and respect. In the early '70s I did a lot of session work and got very burnt out, so I retreated from it and am now happy to work on only a few selected projects a year ... and always with friends.
"But I'm still restless and if I wasn't I'd be very worried. That is important to keeping music alive. It may have cost me an audience from time to time but you must keep exploring and being restless."