Graham Reid | | 5 min read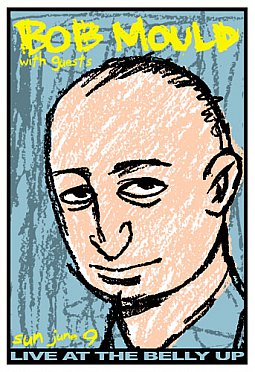 Bob Mould outlines a few of the projects he's been involved in recently and then laughs: "See, that's what happens when you quit your band – you get to do all the fun stuff."
As a member of the power trio Husker Du ("along with REM, the most influential rock band of the 80s," according to Bleddyn Butcher in NME), Mould crafted some of the most scorched earth sounds in rock. The volume was up, the guitars went through the frontal lobe like a buzzsaw in overdrive and the melodies were cast in a white-heat forge.
Like REM, they had steadily moved in from the edges of critical appreciation and indie isolation to mainstream acceptance. For most of the decade they were great and then, in '88 when signed to major label Warners, they were gone.
Mould was reported to have become increasingly frustrated by drummer Grant Hart's drug problems. Mould denied that: "It had all gotten very stale, the spirit was very bleak," he said in '89 of the band he had spent a decade in.
Mould disappeared off to the farm he had brought an hour's drive from his hometown of Minneapolis. There he slimmed down and crafted his first album under his own name, Workbook, which he now describes as "cathartic."
But he also escaped from there in June '89 after he "decided to continue living. It got a little isolated."
Now based in New York and with a second album behind him (Black Sheets of Rain, also recorded with drummer Anton Fier and Bassist Tony Maimone) Mould is embracing the new-found freedoms.
"When Husker Du were going, I always had offers of other projects but never felt comfortable accepting. I never wanted to do anything but be in that band at the time, but now opportunities present themselves and I take them because I like having the ability to change players and directions."
And Mould has been taking up some interesting offers lately.
He doesn't have a working band at present ("I haven't seen Anton for six months and Tony is touring with Pere Ubu and the Mekons") but has recorded a track for the new Anton Fier-led Golden Palominos album and done a version of Richard Thompson's Turning of the Tide for a Thompson tribute album.
"For that I had John Doe and DJ Bonebreak as the rhythm section ... that's the kind of fun thing I get to do these days. And then there's the solo show which I've been doing for about three months now.
"That's very different for me and I'd never been inclined to do it because I thought I needed a band for that big attack. But when I did an acoustic show, people said it was the best they'd seen me, better than with Husker Du or with Anton and Tony because it was more intense.
"It puts the emphasis back on the songs and that's what I need right now – and a lot of solo shows have been happening here recently. Black Francis of the Pixies has been out, so has John Doe and Richard Thompson. It's very expensive touring with a band these days so it's been a way for those of us with a million songs to get them out of our systems."
Mould's frequent mentioning of Richard Thompson is interesting. Two years ago he had not only not heard of Thompson but, superficially, would seem to have had little in common with the British folk-rocker whose guitar skills are legendary.
"In the States people have said the Workbook, album reminds them of Richard Thompson," Mould told NME back in mid-89. "Because of what people had said I went to see him play. Now that was scary ... he made me feel like I just wanted to quit, y'know?"
And like Thompson, shows solo shows encompass the broad sweep of a lifetime's work. Mould says his concerts have an edgy spontaneity about them.
"I have a list of everything I know how to play which obviously covers Workbook and Black Sheets. It's also a chance for me to work in new material people haven't heard and if the timing is right and people are in the mood, some older stuff might get dragged out. But it isn't 'an oldies show' at all," he says laughing.
"It's a show which allows me to gauge responses to new material.
"It's very informal and in my mind low-key ... sort of standards and works in progress stuff. But anything I've ever written is fair game."
And looking back on his catalogue Mould reflects now how central Workbook was.
"It signified a break from the past for me but still brought some elements along from the old band. All the songs, except one, were written for the album and were textural ideas I didn't have the luxury of doing with Husker Du given the limitations built into the power trio idea. It was a chance for me to finally put together a piece which was wholly and entirely mine.
"For me there is everything before that record and everything after, which is a strange tag to put on a piece of work, but it was that pivotal. Maybe in 10 or 15 years I'll do something as important to me again."
If Workbook was the cathartic looking in and clearing out, Black Sheets of Rain was transitional – both physically and metaphorically. Tracks like Hanging Tree with its opening line, "another exit on the freeway, another bridge I cannot bear to cross alone," were written in what Mould calls one sitting – "a six-week period" -- when he was leaving the isolation the farm and relocating himself in New York.
"Although it wasn't as dynamic as Workbook, which was more reflective, Black Sheets, sounds to me now a more focused live and urgent album. A nice counterpoint to Workbook, I suppose.
"And it's been interesting that it met such a divided response. I've retained a core of followers and outside that people come and go to on the periphery. I've always been suspicious of artists having something universally accepted. I figure I'm doing my job when I divide that audience out there .... although that of course, is not my intent, just a consequence."
Yet for a man who has fronted up to some of the biggest and most demanding audiences in Europe and America, Mould says small shows make him a little nervous.
"Audiences over here a frame of reference but 95 per cent of people in a place like Auckland will not have seen me before so I don't know what they are expecting.
"Still, when I get back to the States I'm going off to a 10,000-seat festival in Cologne with Sonic Youth and Dinosaur Jnr and I'm going up there with my 12-string. But given a chance and a good sound person I'll be louder than both of them put together. That's the fun these days for me.
"It's challenging and gets me focused on being a better writer, performer and musician in general.
"Yeah, these are the experiences that do it to you."