Graham Reid | | 9 min read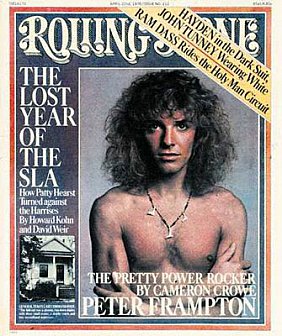 From where Peter Frampton was standing he could see everything. It was 1976 and the angelic, halo-haired singer-guitarist from Kent was on top of the world. His new album was selling spectacularly.
As one writer put it, in 1976 two significant events happened in America: the country celebrated its bicentenary and Frampton Comes Alive! was released.
In that year, the double live album sold more than 8 million copies in America alone, was No 1 in the States for 10 weeks and remained on their charts for almost two years. It was, and still is, the biggest-selling live album in rock with sales of around 20 million copies.
The joke in Wayne's World II that the album was issued at birth to every American kid in the suburbs in the 70s might be closer to truth than many think. Two years ago it was still selling more than 100,000 copies a year -- and the 25th anniversary deluxe edition released on CD in 2001 (extra tracks, gatefold sleeve in the manner of the original) doubtless put another healthy blip on its sales career, which exists independent of Frampton's involvement.
Frampton Comes Alive! was more than just a successful album, it was a phenomenon in the music business.
"It seemed like every minute of the day there was another bit of exciting news," Frampton recalls as the 25th anniversary hits stores. Not the least must have come from his accountants: by the end of 76 Frampton had reportedly earned an estimated gross of $US70 million in concert fees and royalties.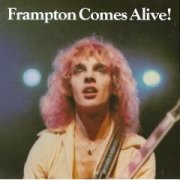 He was Rolling Stone magazine's artist of the year and proclaimed rock personality of the year by Billboard. Numerous other accolades, royalty cheques and handshakes from delighted record company stooges and palm-scratching promoters followed. That ubiquitous album with the boyish 25-year-old on the cover was not only a career-defining moment for him but an emblem of the times, as much an icon of the 70s as the Beatles' Sgt Pepper's was of the previous decade.
It captured the zeitgeist of stadium rock and album-oriented FM radio of the period and was as big in Weehawken, New Jersey, as it was in West Auckland, New Zealand. People in the Western world partied and pashed to it.
The young man with the guitar under the spotlight was a money magnet - but it couldn't, and didn't, last.
Within two years his career was in relentless decline: the hastily recorded follow-up I'm In You was a relatively poor seller, despite a superstar guest list which included Mick Jagger and Stevie Wonder. It lasted only 15 weeks on the US charts.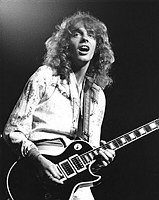 His appearance in the woeful film Sgt Pepper's Lonely Hearts Club Band alongside the BeeGees -- just as punk broke -- did nothing for his image, and the album Where I Should Be from 79 barely dented the US top 20, then dropped out of sight after seven weeks.
A near-fatal car accident in 78 and a high-profile palimony case brought by former girlfriend Penny McCall meant Frampton closed the 70s, a decade his music and image had helped define, as a man marginalised.
A decade on from Frampton Comes Alive!, hanging out with Elton John and the Who, and the warm whiff of marijuana from the stadium crowds, he was coming to terms with how he went from headline to sideline.
"People love to get me to say I hate that record, but I don't," laughs the personable, good humoured Frampton, the accent mid-Atlantic but erring towards the American shores where he has lived for more than 20 years.
"Yes, it put a weight on my shoulders, but it's one I've been carrying very nicely ever since. It's kept me going and I thank everybody for buying so many copies because I'm still getting money from it so I can put my kids through college."
Frampton laughs again and is readily drawn into discussing those years when his world was populated by fans, sycophants, accountants, and advisers who steered him towards projects such as "Peppergate." He repeats his standard line, doubtless true, that he made nowhere near as much money from that classic album as many might think.
"Sure, I made a lot more than most people will see in a lifetime, but I couldn't put my feet up. Unfortunately there weren't enough people around to ... Well, I take full responsibility for the financial mess I got myself into -- but it was with a lot of help from others. I was certainly there spending my money, just like everybody else was spending my money."
Since the mid-80s Frampton has steadily rebuilt his career, albeit in a more considered and controlled way. For a man who sang, "I don't care if they cut my hair" that went early (although for a laugh he sometimes appears on stage in a Peter 76 wig, beneath it there is close-cropped grey), and after playing on David Bowie's Never Let Me Down album, he took to the road with his former school chum from Bromley Tech on the 1987 Glass Spider tour.
In the 90s he played with Ringo's All-Star Band and that of former Rolling Stone Bill Wyman. He recorded the acceptable, modest-selling Frampton Comes Alive II in 95, wrote music for a Disney movie and, as he had done from the age of 17, toured constantly.
In 1999 former Rolling Stone writer-turned-film director Cameron Crowe approached him to be technical adviser on Almost Famous, his semi-autobiographical look at a young journalist on the road with an early 70s stadium rock band. Frampton appears in the film as road manager for Humble Pie, the band he was in before he embarked on a solo career in 69. "Somewhat ironic, I think," he observes with amused detachment.
It was natural Crowe should call Frampton. They have known each other since mid-75 when Frampton invited the writer to hear the album he'd just done and maybe write the liner notes. Crowe's final line on the Frampton Comes Alive! cover was, "It is a testament to Peter Frampton in his natural habitat."
For those who thought Frampton 76 was an overnight sensation, the man came with considerable history.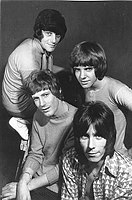 Frampton became a professional musician at 16 -- one of his first bands, the Preachers, was produced and managed by Rolling Stone Wyman -- and in 68 he fronted the Herd (right) as lead guitarist and singer.
"Back then we were all so thrilled just to have a record deal and would go to the seediest people, but that's who was about," he reminisces. "Real mafiosi stuff, but English style and sort of polite as they nailed your other foot to the floor."
He first felt pop's shallow accolades when he was voted "The Face of 68" by the influential teenpop magazine Rave.
In 69 he formed Humble Pie with ex-Small Faces singer-guitarist Steve Marriott, which recorded five acclaimed albums, one of them a blistering live set in 71, Rockin' the Fillmore. He quit for a solo career, played on albums by ex-Beatle George Harrison and American singer-songwriter Harry Nilsson, and -- following the Pie pattern -- built up a steady live following then convinced his record company to allow him to record a live album.
Frampton came alive, for the second time.
Blessed with excellent recall ("I never did heroin, never did the acid"), he reflects on just who that young golden-haired 70s rock god was.
"He was someone who had been working for a lifetime but just couldn't believe what was happening. He was flavour of the month, but thought he was going to be flavour of all time and it would never end.
"No one around me said it wasn't going to last. I was God's gift," he laughs. "But you think the money's going to keep coming and you'll never have to do anything again."
With hindsight, he sees the period as the last of the great, almost innocent, days of rock.
These days Frampton has nothing to prove: he had a Grammy nomination for best rock instrumental for a track on his Live in Detroit of last year, his complete back-catalogue has been reissued, he's undergone a revival of interest with Almost Famous and the reissue of That Album, and he meets "14-year-olds with copies of Led Zeppelin's Houses of the Holy and Frampton Comes Alive! It's unbelievable."
And as always, the man who twice -- with Humble Pie and as a solo artist -- earned his reputation in concert is back out on the road and acknowledges that being under the spotlight is where he feels most at home.
"That's true to form with my career. To paraphrase Kevin Costner [in Field of Dreams], if I play it, they will come. We're out there and people still come out."
Peter Frampton has survived success under the fickle spotlight and had many accolades. But he has also been accorded the most important of our time: he appeared as himself in The Simpsons.
"You know, when I was in Australia last year with Roger Daltrey [of the Who] one of the people introducing me at the press conference said, 'Here's the man my son only knows as one of the Simpsons -- Peter Frampton!'
"As an honour, that's very hard to beat."
Frampton Come Alive! A belated review, 25 year too late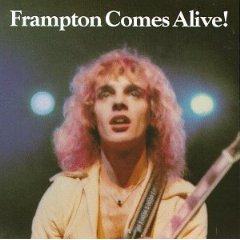 Never having had a copy of this seminal 70s statement —-- or even having heard anything other than The Famous Three Big Songs (Show Me The Way, Baby I Love Your Way and Do You Feel Like We Do) —-- I was delighted to see this 25th anniversary deluxe edition which comes with the obligatory gatefold sleeve, informative booklet and of course extra tracks.
How it would stand up after all those years --— and of course against the cachet it has as an emblem of the era -- would be another matter. Short answer: it sounds brilliant.
What Frampton didn''t know at the time was just how the production --— which allows for crowd noise throughout, such as that guy at every concert who goes "whoo-hoo" in the quiet bits --— would become so much part of the experience. It not only is live, but feels live.
The Famous Big Three still sound fine (the meld of acoustic and electric instruments a chief feature of the album) and the also-ran Almost Famous Fourth (Lines on My Face) is pretty cool too.
And was it coincidence that Doobie Wah sounds alarmingly similar to the Doobie Brothers' earlier Listen to the Music?
But elsewhere over the two-disc haul there are places where this is a bit flabby and on the tedious side. I guess you had to be there. And lyric writing was never a craft Frampton could claim. Some of this is cringe-inducing.
But overall, this is surprisingly good and what with the Cameron Crowe Almost Famous movie connection (he was technical adviser and had a small part), it seems there might be a minor career revival.
Oddly enough, last week I went out and bought a copy of this on vinyl ($9.95). Every home should have one, I guess.
Peter Frampton live, May 2005. Auckland, New Zealand
Directly after he''d delivered one of his biggest hits, a very good account of Show Me The Way, the former bubble-haired rock god - now 55 and bald - sang: "Standing in the spotlight, it's hard to know the truth."
If anyone has stood in the spotlight then learned the lie of fame, it is Peter Frampton. His huge seller Frampton Comes Alive! in '75 tossed him into the ranks of the superstars, only to see him jettisoned when his follow-up album, I'm In You tanked by comparison.
He lost a swag of money, and punk wiped the slate of stadium rockers.
Yet the cheerful, witty and gently self-mocking Frampton, who played to a capacity house, delivered as if it had never mattered to him.
He joked about his lack of hair, quickly got some of the hits off That Album out of the way early (which made you wonder what else he could offer) and addressed tracks off his new album Now -- such as I Need Ground and the encore of George Harrison''s While My Guitar Gently Weeps -- which I doubt his fans even know exists.
Frampton was a little let down by the lack of visual and musical dynamics from his small band but seemed content to carry the attention, notably for his undiminished guitar playing, which was met with great applause. He is of that generation which likes guitar solos. It must be said, however, that one solo did tend to merge into another.
But he was still in excellent voice, can really play those guitars, and over 80 minutes delivered the hits and more, closing the show before the encore with what we had come to hear, a feisty (but slightly tongue-in-cheek) Do You Feel Like We Do, complete with that voice box thing which makes his guitar talk, and offering thanks to the band just as he did on That Album - which many are doubtless playing again for the first time in years.